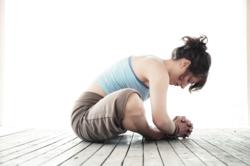 We're Hot, We're Clean, And We Never Smell. :)
Beverly Hills, California (PRWEB) November 17, 2012
Hot 8 Yoga, Los Angeles #1 Voted Yoga studio, is eager to announce its new location in Beverly Hills at 8383 Wilshire Boulevard, Beverly Hills, CA. The new studio in Beverly Hills is one of a kind and among the most luxurious yoga studio's in the world. The Beverly Hills location has three studios offering 7 different styles of classes throughout the day with over 100 different classes a week. The classes include Hot Yoga, Yoga Sculpt (yoga with weights), Yoga Barre (combination of ballet, yoga and Pilates), Power Yoga, Hot Power Fusion, Yin Yoga and its own Hot 8 Flow. All of the classes are performed in the heat between 90 and 110 degrees and vary in duration from 60 to 90 minitues. Hot 8 Yoga's class schedule supports all levels of students.
The Beverly Hills location has a fresh juice bar, full retail boutique, showers and lockers (with hair dryers), towel and yoga mat service and ample free two hour parking directly underneath the studio.
Hot 8 Yoga has provided the healthiest, cleanest, and most carefully monitored and regulated practice studios you will find anywhere. By pumping fresh air into each of its yoga studios that is free from bacteria and doesn't smell, the air quality in the studios are well oxygenated, properly humidified and disinfected from harmful germs. Each studio houses germicidal ultraviolet light rays to eliminate and destroy bacteria, odor, mold and mildew, viruses, V.O.C., cleaning chemicals, smog and other Airborne Pollution. Practicing yoga at Hot 8 Yoga will have a dramatic effect upon your physical and mental well being. All hot yoga studios are not created equal. Hot 8 Yoga has spent the time, energy and expense to make sure that their classes never smell and that you are breathing the freshest cleanest air possible.
Practicing yoga in the heat will have a dramatic effect on your physical fitness. The heat will help increase your metabolism, detoxify your body of harmful substances and help to prevent injury. Beyond the physical implicatons, environmental heat acts as a powerful and tangible psychological force that compels students of all levels to overcome attachment to external distractions. The environmental heat enhances your mental focus and will substantial reduce stress levels in your body.
Hot 8 Yoga also offers Yoga Teacher Training in its Hot Yoga series, Yoga Barre class and Power/Vinyasa yoga. Come deepen your yoga practice or become and excellent teacher in Hot8 Yoga's Yoga Alliance approved program .