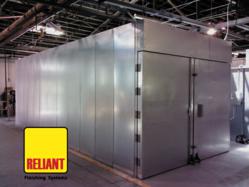 He has a talent for helping clients make intelligent decisions about their immediate equipment needs, their internal processes, and their long-term coating plans.
Somerville, AL (PRWEB) November 19, 2012
Reliant Finishing Systems (http://www.reliantfinishingsystems.com) announced today that the company has promoted one of the powder coating industry's most experienced veterans, Mr. J.R. Stewart, to Reliant's highest technical service position. Mr. Stewart has agreed to support Reliant's rapidly growing business by acting as the company's Executive Director for Technical Services. Mr. Stewart was previously employed as the National Service Manager for Reliant Finishing Systems. The promotion will establish Mr. Stewart as the leader of the company's product improvement and technical support initiatives, as well an executive-level point of contact for Reliant's distributors and clients.
Mr. Michael Schuerer, President of Reliant Finishing Systems, stated that that Mr. Stewart's expertise was critical to Reliant's efforts in advancing the company's offerings in the engineered systems market. "During his career, Mr. Stewart has accumulated an amazing amount of knowledge about powder coating. Although he has only been with Reliant for a short time, he's been an invaluable asset. He has a talent for helping clients make intelligent decisions about their immediate equipment needs, their internal processes, and their long-term coating plans. As we develop larger and more complex powder coating systems, Mr. Stewart will be actively involved in dialogue with our clients, and will help oversee the implementation of product refinements. Mr. Stewart will also continue to work with our technical support staff assisting our growing network of distributors," he said.
Reliant's Executive Vice President, Mr. John Thomason, actively worked to secure Mr. Stewart's promotion. "He's done an excellent job making sure that our clients promptly receive the technical support they need. When required, J.R. has personally gone to project sites on short notice to help see our projects through to completion. I know of weeks where J.R. visited three or four major clients at opposite corners of the country to make sure everything was operating properly. That's the kind of dedication we were looking for when we first interviewed him, and he has proven to be a very effective for Reliant," he said.
Mr. Stewart commented, "I'm glad Reliant has allowed me to oversee the technical service component of their business. Right now they are growing so rapidly that it's been a challenge to keep up, but it's a challenge I'm eager to meet. It is very important to me to provide quality equipment and top-notch support for all of our clients. I'm happy that Reliant has the same level of commitment to quality and customer support as I do. Reliant's powder coating products are some of the best on the market, and the company is devoted to providing outstanding customer support from top to bottom."
Reliant Finishing Systems is one of the fastest growing powder coating equipment suppliers in North America. Based in Alabama, Reliant designs and manufactures automated finishing lines for industrial use, as well as simpler "batch" coating systems. The company offers curing ovens, powder spray booths, media blast rooms and a variety of custom manufactured finishing solutions.