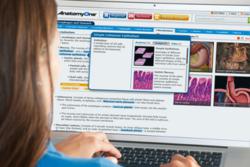 AnatomyOne is perfect for helping medical students make the transition from gross anatomy to imaging anatomy
Salt Lake City, UT (PRWEB) November 28, 2012
Amirsys today presents AnatomyOne, an online anatomy learning and teaching resource, to radiologists at the annual Radiology Society of North America(RSNA) meeting. Radiology faculty can use AnatomyOne's wealth of resources to guide third and fourth-year medical students in radiology rotations. They can also use AnatomyOne to prepare lectures and course outlines for first year medical students.
"AnatomyOne is perfect for helping medical students make the transition from gross anatomy to imaging anatomy," says Paula Woodward, MD, Professor of Radiology specializing in Obstetrics.
AnatomyOne provides thousands of anatomy illustrations, cadaver photographs, and radiology images. Using AnatomyOne's simple custom atlas tools, radiology faculty can hand-pick collections of images and download them into PowerPoints for lectures. They can also share custom atlases with students to help them prepare for lectures, exams, or time in the reading room.
Additionally, faculty can use AnatomyOne to guide students through comprehensive regional, systemic, and clinical anatomy perspectives. The over 450 Clinical Insights, written by practicing clinicians, contain just the right amount of radiology images and concepts for medical students. Radiology faculty can use the Clinical Insights to help students discover the clinical relevance of the anatomy they are learning. Then, faculty can create course outlines to guide students through a course or to prepare students for radiology rotations.
To learn more about AnatomyOne, please visit http://www.anatomyone.com or go to Facebook at http://www.facebook.com/anatomyone.
About Amirsys, Inc.
Amirsys delivers medical expertise with powerful technology to provide life-saving, vital information to health care professionals. Amirsys content is authored by a team of over 300 leading radiologists, pathologists, and anatomists. Our intelligent technology transforms this content into powerful medical information products, ranging from clinical diagnostic support to educational products .