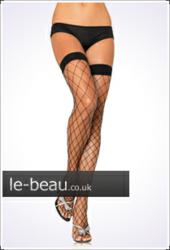 You can simply buy stockings and still qualify for the £100 voucher
(PRWEB UK) 19 November 2012
Today le-Beau is rolling out a special December deal that promises to make partners popular. The sexy lingerie website is offering every customer a free £100 voucher for fabyandcarlo.com when they buy from le-Beau.
The purchase price doesn't matter, men can simply buy one of the cheapest items such as the sexy stockings and still they'll receive an extra gift of a £100 voucher to give to their loved one on Christmas Day.
ok
Faby and Carlo are renowned women's photographers in London. They are popular for bringing out the best of a woman's figure and features and delivering prints that wow and amaze. They are completely tuned in to a woman's wishes and take time to get to know the person before they start to take the pictures. Known as boudoir photographers they offer a complete experience that allows customers to enjoy wine, chatter and a friendly fun atmosphere that puts them at ease before the posing starts.
The voucher will cover the entire cost of a bespoke boudoir photo-shoot as well as giving Le-Beau customers a huge fifty per cent off any photographs they want to buy.
Andrew Brown of Le Beau lingerie explains how they can make this generous offer, "we have always been a fan of Faby and Carlo's boudoir photography as they capture our adult costumes and lingerie in a way no one else as have been able to, so now we're offering to work with them to give our customers a one off experience. We're hoping this will be popular with men as not only can they use our site to buy sexy lingerie they can also keep the voucher and give their wives or girlfriends and extra present worth over £100."
The voucher is made available to print off for every customer in December as soon as they have completed the checkout process.
Le-Beau is a quality lingerie site that offer affordable costumes and accessories with free delivery across the UK. Le-Beau.co.uk offers a wide range of exotic and sexy lingerie, fancy dress costumes, dresses, boots shoes and more, supplying clients with an exceptional standard of sexy lingerie as well as other products. We also provide you with a high standard secure online shopping experience here at Le-Beau lingerie and we are confident you will be more than satisfied with our products and services. We want you to tell your friends about us!