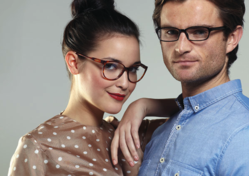 (PRWEB UK) 19 November 2012
Glasses Direct, Europe's leading online glasses retailer, are offering a range of eco-friendly designer glasses made entirely from recycled materials.
Designed to be both stylish and good for the environment, all of the glasses in the Element range have been created from recycled metal and acetate. Each Element glasses case is also made from recycled material, from reconditioned iron to old plastic bottles.
Element's high-quality nickel-free metal frames are created by melting down scrap metal from bottle cans, used factory equipment and washing machines, while those made from non-toxic and hypoallergenic acetate are fashioned from the cut-offs of previously used acetate sheets.
All Element frames are made with care, durability and quality, and are priced from £95. The Glasses Direct team are confident that the range can hold its own in the style stakes but without sacrificing important eco-credentials, stating: "You can rest easy that when we say we're into doing our bit for the environment, we really do mean it."
Customers can also currently get 40% off their Element frames as part of the Early Christmas Saver special offer. The offer applies to all Glasses Direct frames, including vintage-inspired retro glasses range, London Retro.
The full Element range is available at: http://www.glassesdirect.co.uk/brand/element
All Glasses Direct collections and offers can be found at: http://www.glassesdirect.co.uk
Glassesdirect.co.uk is the world's largest online prescription eyewear store. We offer the same high quality glasses you'll find on the high street at much more affordable prices online.
** Ends **
For more information, contact:
Sarah Nice: sarah.nice(at)glassesdirect(dot)co(dot)uk, 07919 490 424