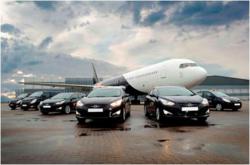 (PRWEB UK) 16 November 2012
For those who are frequent users of business charter flights, they've probably come across Titan Airways before.
And if they've come across Titan Airways, then they'll soon be coming across one of their new business cars from Hyundai.
Titan Airways specialises in VIP and corporate business travel, and needed to renew its fleet of cars that keep ground operations running smoothly, with a range of both new and used Hyundai models.
So if one travels with Titan Airways, who operate from all major UK international and regional airports, then keep an eye out for the Hyundai i20, i800 and i40 Tourers that now form part of the ground support function.
Paul Taylor, business development manager at Titan Airways, explained that the Hyundai fleet of cars would be used as pool cars, for transporting cabin crew to airports along ferrying them to and from airport buildings and aircraft.
"The key motivation for buying Hyundai is that they were one of the very few manufacturers who could supply both small compact hatchbacks and large people carriers," continued Paul.
As one would expect, there are strict rules on vehicles that travel airside, including the requirement to have them serviced in-house every six months.
"The supplying dealer was Haddocks Hyundai," said Paul, "who were able to furnish our specific requirements in terms of vehicle specification as well as our specific in-house service and maintenance needs."
Business Car Manager has a variety of useful guides including business car finance, company car news and detailed reviews including Peugeot reviews among others.
For more information, visit Business car Manager at http://www.businesscarmanager.co.uk/