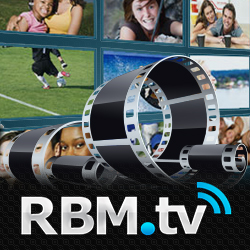 We believe there is no other OVP in the market that compares with RBM.tv – it is a real game-changer.
Orlando, FL (PRWEB) November 19, 2012
Right Brain Media is pleased to announce the recent launch of their online video platform (OVP), RBM.tv.
RBM.tv offers a user-friendly video management solution for live streaming and video on demand (VOD) that works on any device. Providing analytics, cloud-based encoding, REST APIs and robust content management tools, along with enterprise white label options, RBM.tv has been engineered to aggressively challenge other industry leading OVPs.
RBM.tv stands out from the other platforms because it provides flexibility and the highest level of customization options. Without the restrictions most OVPs impose, the solution provides API access, CDN aggregation, live transcoding and transmux support.
"We believe there is no other OVP in the market that compares with RBM.tv – it is a real game-changer," says, Deke Hooper, CIO of Right Brain Media. "Major CDNs are already utilizing RBM.tv as their own OVP, so we are excited to see how it will impact the industry."
Additional RBM.tv Features include:

Live Streaming across Multiple Devices
DVR and Live Stream Recording
Live Broadcasting from Mobile Devices
Live Stream Transcoding – Adaptive Bitrates and Formats from a single source
Video Encoding – High-speed, Cloud based Video Encoding
Complete Online Video Platform (OVP) with Workflows, Widgets and Ad Delivery
Integration with industry leading Content Delivery Networks (CDNs) for easy Video Management, Tracking, Syndication and Monetization of video content
Businesses looking to distribute their video content worldwide can use RBM.tv to choose and use multiple CDNs concurrently. RBM.tv also provides consolidated distribution reporting, through log aggregation. The OVP delivers live stream monitoring, as well, to ensure quality assurance from geographic locations around the world.
RBM.tv is an affordable solution for anyone seeking a robust, flexible media distribution tool. RBM.tv offers pricing plans within reach for small businesses, churches and non-profits, while still meeting the technology needs for some of the largest organizations in the world.
Click here to learn more or visit http://www.RBMtv.com.
About RiGHT BRAiN MEDiA
Right Brain Media, Inc., founded in 2002, is a pioneer in digital media and web technology products, services and solutions to businesses, ministries and non-profit organizations. Right Brain Media specializes in digital media centers, interactive E-books, websites, Internet TV channels, live streaming products, mobile apps and Software-as-a-Service (SaaS) products. Using cutting edge technology, Right Brain Media creates custom solutions for clients to propel their businesses forward.