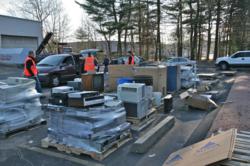 Solutions for a Healthy Planet
Mansfield, Massachusetts (PRWEB) November 26, 2012
Miller Recycling Corporation is reminding all residents & business that the second E-Waste Recycling Event will be held on Saturday, December 8th for the proper disposal and recycling of obsolete electronics. The event is scheduled to take place at 73 Plymouth Street in Mansfield, MA from 8:00am to 2:00pm.
Miller Recycling Corporation will be accepting ALL types of electronic scrap including computers, monitors, power supplies, TV's, telephones, cell phones, gaming systems, etc. All computers and components will be accepted at no charge. There will be a charge of $6.00 per piece for recycling of all TV's and monitors regardless of size. http://www.millerrecycling.com/e-waste
Miller Recycling will donate 50% of this charge to the West Side Benevolent Society in Mansfield, MA. West Side assists and donates to individuals and families in need in the Town of Mansfield.
PLEASE NOTE: Miller Recycling Corporation will also be accepting Toys for Tots and Goods for Troops donations at this event.
Please call 1-800-783-6766 for additional information and details of our ongoing E-Waste Recycling Program following this event. Pickup service is available for large quantities and commercial accounts
Also visit our web site at http://www.millerrecycling.com for additional information on our services.
About Miller Recycling Corporation
Operating since 1940, Miller Recycling is a third generation company with the experience required to assist with all electronics, paper, plastics, and metals recycling requirements. Northeast Data Destruction http://www.nedest.com, our NAID "AAA" Certified confidential shredding division, will securely process all your sensitive documents, files, media, hard drives, tapes, CD's, off spec products and storage components. Nationwide service is available.