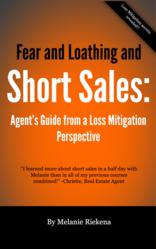 It's never been more important for real estate agents to grasp these skills.
Nashville, TN (PRWEB) November 16, 2012
"Fear and Loathing and Short Sales," a new book by Author Melanie Riekena written to dismantle old fears of one of the industry's most important processes, launches November 20 on Amazon.com as a free Kindle download.
For years, a majority of real estate professionals have struggled with the complexities of loan settlements and all they entail. Inadequate training and large-scale misunderstandings have hampered many real estate professionals from overcoming the short sale "block" that is common among real estate agents nationwide. For almost 20 years, Realtor Melanie Riekena has worked with a team of professionals to help thousands of clients settle defaulted or imminently defaulting home loans, earning herself a reputation as a master of the short sale.
Riekena's observations of short sales practices in the U.S. motivated the first-time author to write a common sense manual for realtors who need to master this skill in order to better serve their clients.
Riekena believes the real estate industry has a special opportunity to assist the public and the nation. "Fear and Loathing and the Short Sale" presents a conversational and common-sense approach to de-mystifying the short sale process and encouraging real estate agents to set aside the notion that negotiating mortgage settlements is outside the scope of their licenses, or that they cannot become successful specialists in this area.
"I have found agent training on short sales to be missing entire subject areas that are critical to their success," Riekena says. "On the other hand, I have seen sincere concern and desire on the part of many real estate agents to assist the public who so desperately need their help."
Since foreclosures started becoming an epidemic in the U.S. four years ago, Riekena says there is "new terrain" to the industry, and there is a need for some new rules and mindsets to be applied. To be successful and to provide their clients with the best level of service, agents must learn new skills and new ways of working within an industry that deals with so many clients who are suffering financially.
The book, offers sage advice written with the loss mitigation perspective that is missing from the real estate industry. Since the epidemic of foreclosures, the real estate and finance (loss mitigation/default servicing) industries have been experiencing unusually high demands to work together, where historically this need was virtually non-existent. As a result, the unofficial short sale success rate is only 28 percent.
"Short sales are associated with extra work, elevated risk of failure, and reduced pay on many of the transactions that close successfully; hence the nationwide "fear and loathing" they provoke," Riekena says.
Her contribution to the short sale "conversation" is something Riekena says she felt compelled to do so that those real estate agents who are missing out on the all-around success these skills can bring to their careers can turn it around for themselves and their clients.
"It's never been more important for real estate agents to grasp these skills, and they have to start by rejecting the idea that short sales and a high rate of failure must unavoidably go hand in hand," she says.
"We need to convince real estate agents that they can learn these skills, and that in doing so they can better serve their clients, experience the abundant profits their work and expertise deserves, and earn long-term market share in their areas by "niche-ing" themselves to assist this under-served sub-market."
"Fear and Loathing and the Short Sale" will be available November 20 through November 24 as a free Amazon Kindle download.
For more information, or to download the book to Kindle, go to Amazon.com/ Fear-Loathing-Short-Sales-ebook, or visit the "Fear and Loathing and Short Sales" Facebook page.