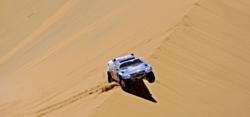 disappear off the grid to remote and unique holiday destinations
London (PRWEB) November 19, 2012
1. Off the Grid- Desert holiday
Follow in the footsteps of the King and Queen of the unexpected, Brad and Angelina, who are known to disappear off the grid to remote and unique holiday destinations from the Lake District to Namibia. Embrace adventure and disappear on a desert holiday in Morocco and let Quintessentially Escapes provide an opportunity to enjoy the less-visited, traditional Morocco through the most spectacular scenery, forgotten routes and paths, and surprising villages and settlements. The Sahara desert is a must for the curious traveller with its sand dune sunsets, camel safaris, and dry lakes. For a truly magical experience visit a berber bivouac encampment; fall asleep under the stars encased in nature and the enchanting surroundings.
2. Winter Adrenaline Rush- British Columbia
Justin Timberlake knows the pleasures of skiing down untouched slopes making unique tracks, as he headed to British Columbia for some private cat skiing. Take it one step further with Quintessentially Escapes and embark on some adrenaline rushing heli-skiing. A private helicopter and guide offer a fantastic thrill to pilot skiers on remote peaks and with 10,700 sq/km of terrain to ski (an area the size and breadth of the Swiss Alps) there are a lot of slopes to choose from!
3. Embracing your inner beast- Helicopter Safari
Some surprising celebs have taken to embracing their inner beast in the form of Kate Moss, Lily Allen and even Mischa Barton. If these fashion princesses can get their safari on, then anyone's 'game'. Take the safari experience to new heights by letting Quintessentially Escapes organise a helicopter safari and more. Specialising in Kenya, Uganda, Tanzania, Ethiopia and the Democratic Republic of Congo, Quintessentially Escapes ensure to deliver 'an experience of a lifetime'. Explore remote locations, witnessing spectacular mountain, forest and desert scenery that is both unexplored and unforgettable.
4. Hunter's Delight- Shooting trips
Not many celebrities would be brazen enough to come forth and admit to their love of hunting for fears of hindering their popularity; however it is a sport appreciated amongst some fairly big names and most surprisingly, Eva Longoria. This pint-sized diva grew up hunting with her father on her family's ranch in Texas at a very young age. Whether it's a day shooting event or a whole weekend, Quintessentially Escapes has the perfect locations be it in the UK, Europe or further afield. An extraordinary hunting or fishing escape will be planned by the experts to fit each individual's needs and requirements. Let Quintessentially Escapes advise, organise, and pamper with distinctive sporting destinations and luxurious lodges.
5. Power Family Escape - luxury yacht
Power couple. Power Yacht. The ultimate power couple, JayZ and Beyoncé took to the Mediterranean seas this summer with their 8month year old baby on board their super yacht. Quintessentially Escape has an outstanding portfolio of only the finest luxury yachts chosen for their exclusivity and impressiveness. Whether setting sail family style like the celebrity power couple or embarking on a unique and thrilling exploration, Quintessentially Escapes is here to advise and steer to create the ultimate yachting adventure.
About the Company:
Quintessentially Escape is a sister business of Quintessentially, the leading international luxury lifestyle company. Launched in 2000 as a small London based concierge service, Quintessentially (http://www.quintessentially.com) has experienced a complete transformation in a decade, and currently have offices in over 64 cities around the world. The service provided to their discerning and HNW members is proactive and personalised, catering to every member's need, from last minute restaurant bookings, travel arrangements, and access to private parties, as well as fulfilling every unusual request and successfully connecting businesses all over the world. Quintessentially can offer access to the inaccessible and can make the seemingly impossible, possible. In a bid to ensure only the very best service is delivered across the luxury market, Quintessentially has also launched 32 luxury sister businesses comprised of experts in every luxury division. This includes real estate, travel, luxury retail, wine, art, flowers, private aviation and more (http://www.quintessentiallygroup.com).