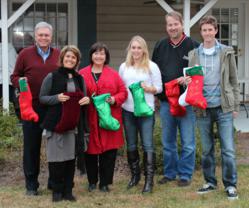 Atlanta, GA (PRWEB) November 26, 2012
Each year, as the holiday season approaches, Operation Stars and Stripes reaches out to companies and individuals to support America's Military with care packages and letters. An all volunteer not-for-profit organization, Operation Stars & Stripes operates solely through donated items and monies.
Mattress Safe® is a manufacturer of bed bug certified mattress and box spring encasements. From it's inception, Mattress Safe, Inc. has carried a mission producing products MADE IN USA, and supporting the local and national economy. As a family based business, the owners and management of Mattress Safe, Inc. share a passion for giving and volunteering. Each year Mattress Safe® supports and donates to several local and national charities.
While Mattress Safe® and its network of Pest Management Professionals wage a figurative war on bed bugs, every day the men and women of the armed forces wage a real war against terrorism and injustice around the world.
This holiday season, the management and employees of Mattress Safe® along with their partners at Jtech networks and No Longer Bound, continued the tradition of giving with military donations. Contributing donations and postage to Operation Stars & Stripes, they join the efforts of supporting the brave heroes that sacrifice their lives, so that Americans may live freely.
On November 15, 2012, employees of Mattress Safe®, No Longer Bound, and JTech Networks donated their efforts by filling holiday stockings with essential items and small gifts. Employees took time out of their day to write letters of appreciation to ensure the sacrifices the troops make on a daily basis to preserve freedoms do not go unappreciated and are not forgotten.
To help Operation Stars & Stripes in supporting these brave heroes and their families visit http://operationstarsandstripes.org, by phone at 770-509-1156 or by mail at 483 Old Canton Road, Suite 100, Marietta, Georgia 30068
To view pictures and videos of Mattress Safe's contributions to "Operation Holiday Stockings for the Troops" visit: http://www.mattresssafe.com/supportthetroops2012
For more information about Mattress Safe® products , please visit http://www.mattresssafe.com or call 1.888.405.5335.