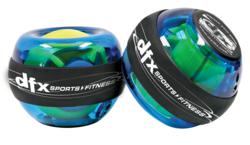 "The top 10 tips to determine if you have a genuine product or imitation knock off."
Anaheim, CA (PRWEB) November 19, 2012
Sports rehabilitation and fitness company, DFX Sports & Fitness, reveals the top ways to recognize their original product, The DFX Powerball Gyro. With foreign imposters who have created similar, misleading and dangerous product copies, DFX wants users to know the following 10 tips to recognize the original, patented Gyro Powerball.
In a Europol informational release, the organization states that "Many consumers are unaware that counterfeit goods don't undergo the same rigorous testing that legitimate manufacturers apply to their products to ensure they are safe."
DFX wants users to know that these knockoffs can be potentially dangerous and hazardous to customers since they are made from lower quality materials and poorly constructed. The following list includes recommendations that DFX has put together to inform users of what to look out for:
1. Look into company background and sales consistency of the product: how long a company has been selling /been in business. Do they have background info on the product during its growth process? Try searching their history.
2. Don't always depend on reviews. It's easy for anyone online to create a fake account and give star ratings, so what people should really look for are certifications and endorsements. The DFX Powerball is PGA/UAL tested and certified. It has professional athlete product endorsement and even NASA has used them on space missions. DFX products have an assigned CPT insurance code, allowing doctors to prescribe to patients with RSI. They also have extensive military and law enforcement endorsements.
3. Look into product patents and trademarks. DFX has the original Powerball which the company president took part in creating and innovating. DFX has the patent as well as the trademark
4. Pay attention to product packaging in retail stores and online. DFX uses clear plastic packaging, which allows customers to see exactly what they're buying before a purchase. DFX packaging includes descriptions, certifications and useful information that are visibly displayed on the packaging. Counterfeit companies sell their products in boxes, which don't allow customers to see what they're really buying.
5. Pricing should be an obvious red flag. Anything significantly cheaper is likely to be a knockoff. Foreign companies do not care about investing the time and money that is spent on quality assurance and testing. Their main goal is to sell quick, sell cheap and to sell quantity.
6. The DFX or Dynaflex band logo is a clear way to recognize the original Powerball. DFX bands are smooth and come in clear or black; they will always have DFX's website URL's which are http://www.mydfx.com and http://www.dynaflexpro.com . Foreign bump offs have bands that are the same color, but will not say DFX or Dynaflex.
7. All of our gyros will have our logo for DFX or Dynaflex on the top of the cap.
8. Limited contact information or none at all. When looking at sites like eBay or Amazon for example, is the seller/contact information strange or abnormal? You always want to make sure that there is extensive information to reach the company. DFX's contact information is clearly stated on their site: phone number, comment box and hours of operation.
9. Workmanship is a physical indicator that a product is not made with good quality materials. If a knockoff weighs lighter than normal, then it's probably caused by cheap plastic used to manufacture it. The IronPower Silver Powerball Gyro for example, is made with a 2mm thick stainless steel axle, hard coated aluminum housing and heavy duty bearings. DFX's Powerball gyros are all CE certified and Rosh certified, meaning each product available for purchase has been tested in a controlled environmental lab to check for harmful emissions or pollutions in any form.
10. Performance: DFX and Dynaflex Powerball gyros have computer balanced rotors and polycarbonate cores which gives the highest level of resistance while still running smoothly. They start up easily from the day of purchase through months later. Imposters will have a hard time gaining speed and resistance, and with regular use, cease to have any resistance at all.
About DFX Sports and Fitness:
DFX Sports and Fitness is the original leader and innovator of gyroscopic fitness products, manufacturing a wide range of rehabilitation training and fitness tools through their patented gyro technology. They are the original creator and manufacturer of the patented Powerball Gyro. Established in the late 1970's, DFX has revolutionized the way people improve their physical fitness and is UAL Logo Certified, military endorsed, and PGA Tour Partners Club Member tested and approved. For more information, please visit: http://www.mydfx.com.