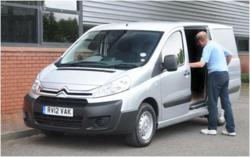 (PRWEB UK) 16 November 2012
For those who are proud of their road safety record, or sure that they apply best practice when it comes to the operation of their vans and drivers, there's still time to enter their business for RoSPA's Management of Occupational Road Risk (MORR) Awards. Registration for the MORR Awards, part of The Royal Society for the Prevention of Accidents' (RoSPA) Occupational Health and Safety Awards, closes on 3 December
Entry is open to businesses with employees who drive for work, such as van drivers, and which demonstrate excellence in managing work-related road safety.
Judges want to see evidence of best practice in areas from driver training to the monitoring of safety with support from historical performance data.
Other areas to be considered include how the business investigates accidents and implements the lessons learned, its standards and targets, communication of occupational road safety information within and outside of the organisation, and its monitoring systems of road risks.
Entrants will be eligible for bronze, silver and gold achievement awards, along with the top prize of the MORR trophy to the business that has most effectively managed its occupational road risks over the past year.
RoSPA head of road safety Kevin Clinton told Business Vans: "RoSPA prides itself on encouraging companies to manage occupational road risks in the same way as other work-related issues, so the MORR Awards are very important.
"RoSPA is seeing more and more companies using telematics to monitor business van drivers, but what we particularly want to see is companies that don't just rely on driver training but are managing the safety and risks of drivers from the top down."
The occupational awards scheme was launched by accident prevention charity RoSPA in 1956 and has have gone on to form the largest and longest-running programme of its kind in the UK.
This year, entrants will submit their entries online for the first time using through the RoSPA website. For more information on the RoSPA awards scheme call 0121 248 2090 or email awards(at)rospa(dot)com.
Keep up to date with developments in our Business Van News section.
Business Vans offers a wealth of useful information including tacographs, van MOTs and a range of reviews including Hyundai van reviews.
For more information, visit Business Vans at http://www.businessvans.co.uk/