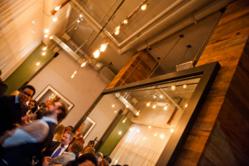 New York, NY (PRWEB) November 19, 2012
Carbon NYC hosted its Chic Fall Cocktail at Three Squares Studio on Thursday, November 15th, 2012. The event was attended by Carbon Members and guests who mingled and enjoyed premium cocktails and hors d'oeuvres. As part of the fall themed event, guests were encouraged to bring non-perishable food or to donate money to Carbon's Virtual Food Drive hosted on the website of the Food Bank For New York City. Throughout the evening, Carbon staff collected donations electronically.
This was Carbon's second collaboration with the Food Bank For New York City and is a continuation on Carbon's commitment to philanthropy. Each dollar raised triples the amount of food purchasable due to the Food Bank's wholesale purchasing power and distribution.
"Philanthropy is a core tenant of Carbon's values. The organization is fortunate to have a membership of successful individuals who pride themselves on supporting our City and Country and are committed to philanthropy," said Liz Rubin, President of Carbon NYC.
Carbon's major annual fundraising effort is conducted through its Annual Spring Charity Soirée. The annual philanthropic event began in 2010 when Carbon supported charity: water, which netted over $35,000. In 2011, the event raised funds for local youth non-profit, CampInteractive, which netted $100,000 and in 2012, Carbon supported arts education in New York public schools through Lincoln Center Education Programs and Russell Simmons' Rush Philanthropic Arts Foundation. Carbon's 2013 charity and event details will be released in the coming months. Interested parties should contact Sponsorship(at)CarbonNYC(dot)com for more information.
Carbon is a New York based, invitation-only, social network of leaders in international business, technology, politics and the arts. Criteria for Membership are outstanding professional achievement, a strong character and a demonstrated passion for non-work related pursuits, including the arts, philanthropy, technology, sports and leisure. Carbon provides its Members unique programming, such as the Salon Speaker Series, social events in New York's most exclusive venues, regular poker tournaments and access to special offers from leading luxury brands. The foundation of Carbon Membership is integrity and a commitment to actively participate in events and support other members professionally and personally.
For inquiries, please contact:
Info(at)CarbonNYC(dot)com
Tel: 917-494-1644