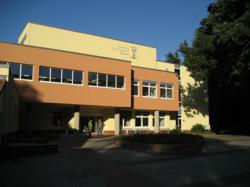 "The ability to replicate the motion characteristics of a natural disc is a major advancement in technology that will benefit the outcomes of disc replacement patients" states Dr. Ritter-Lang Medical Director and Head of Spinal Surgery - Stenum Hospital
Bremen, Germany (PRWEB) November 18, 2012
Stenum Hospital – Stenum Hospital - Special Clinic for Orthopedics Stenum Hospital hopes to further its reputation as a world leader in Disc Replacement and expand their specialization with new surgeons. "Role allocation has changed drastically", chief surgeon Dr. Jan Spiller explains. In the past, there used to be a head of surgery who was able to do everything. Now however, the goal is to employ specialists for all areas the hospital works in. This high amount of specialization had become a necessity, due to rapid medical advances. The clinic is going to focus mainly on three areas: Joint Replacement; The Spine and Disc Replacement, and conservative options.
All areas will feature the most modern techniques, Dr. Tobias Brockmoeller, is one of two new specialized surgeons. The 35 year-old ispecializes in sports orthopedics. "We haven't covered this area very well in the past," Spiller says. Demand in this area, however, was always present, explains Brockmoeller, who joined Stenum in mid-October and previously worked at Nordwest-Krankenhaus in Sanderbusch.
The endoprosthetics field is covered by Nicole Kuhnert. "I've joined the hospital in February". To date, she has done more than 100 surgeries at Stenum. Before her job at Special Clinic for Orthopedics, she was at Wald-Krankenhaus Spandau in Berlin. A specialty hospital has enormous potential, as it allows for the building of smaller teams, the specialized surgeon, who does knee- hip- and foot surgery, explains.
These two new surgeons have increased the number of specialized surgeons working at Stenum, there are also additional assistant doctors and several partnerships with external physicians. Spiller replies to questions, if further employees will be needed for the new model: "I don't think there is going to be a standstill."
For more information or to begin an evaluation for joint or disc replacement go to http://www.BetterDiscReplacement.com
Contact the Stenum Team at 866-210-0152 Toll Free.