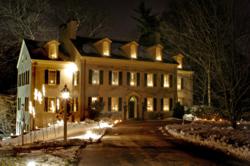 Wilmington, Delaware (PRWEB) November 18, 2012
Hagley Museum and Library invites you to a new evening program, "Home for the Holidays," on Tuesday, December 4, from 7 to 9 p.m. The evening will feature candlelight tours of Eleutherian Mills, the first du Pont family home built in America, and a reception offering guests cocktail and "mocktail" tastings, desserts and mulled cider, and demonstrations, tips, and ideas on entertaining at home. Admission is $40 for non-members and $30 for members (and includes one drink ticket). Cash bar, must be 21 years or older to attend. Reservations are required by November 28. Register online, http://www.hagley.org, or call (302) 658-2400.
Learn from Hagley experts! Horticulturalist Renee Huber will show guests how to create centerpieces and festive decorations. Toscana Chef Roy Eckbold will craft a gingerbread house during the evening and let guests test their skill decorating gingerbread men. Visitors will make origami star boxes, perfect as place card holders or table favor, with Education Coordinator Jeff Durst. Hear details from Hagley guides on how the du Pont family home is decorated, from the Dining Room featuring an elegant plum band china set for a Twelfth Night dessert, to the use of natural Brandywine materials for mantle swags, and the traditionally decorated tree in the parlor surrounded by children's toys.
Activities will be in the barn on the upper property at Hagley. Guests are encouraged to dress warmly. Comfortable shoes are recommended as guests will walk between the barn and Eleutherian Mills.
In case of postponement due to inclement weather, the event will be held on December 5.
Hagley invites guests to bring a new, unwrapped toy, game, book, or clothing item for a child up to age fourteen to donate to the Sunday Breakfast Mission. Items will be collected under a Christmas tree in the barn.
About Hagley Museum and Library
"Christmas at Hagley" runs from November 23, 2012, through Sunday, January 6, 2013. Hours are 9:30 a.m. to 4:30 p.m. Hagley is closed on Thanksgiving Day, Thursday November 22, and Christmas Day, Tuesday, December 25, 2012.
Admission to the holiday display and entire 235-acre museum is $11 for adults, $9 for students and senior citizens. Children fourteen and under are free from November 23 through January 6, 2013.
Hagley Museum and Library collects, preserves, and interprets the unfolding history of American enterprise. Call (302) 658-2400 weekdays for more information or visit http://www.hagley.org.
# # #