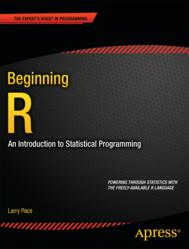 New York, NY (PRWEB) November 16, 2012
Apress brings "R" knowledge to programmers with their new offering, "Beginning R," by Larry Pace. R, a powerful open-source implementation of the statistical language S, allows users to crunch data and represent it graphically. Originally developed by AT&T, it can be used on UNIX, Windows and Mac Operating systems and is even being implemented into Oracle Database. As an author and educator, Dr. Pace takes a hands-on and example-based approach, incorporating best practices with clear explanations of statistical and graphical techniques.
As attendees of Oracle Open World can attest, R has grown since the Big Data wave and has since proven its relevance in the tech community. R has eclipsed S and the commercially-available S-Plus language, and has become the de facto standard for doing, teaching, and learning computational statistics.
In this book, Pace teaches readers where to get R and how to install it, how to import and export data and scripts, generate basic statistics and graphics and program in R to write custom functions. The title is an easy-to-read reference for working professionals, professors and students who want to learn and use R for basic statistics. It is the perfect book for anyone needing a free, capable, and powerful tool for exploring statistics and automating their use. The investment in learning R is sure to pay off in the long term as R continues to grow into the go-to language for statistical exploration and research.
For more information on "Beginning R" please visit: http://www.apress.com/9781430245544.
About the Author
Dr. Larry Pace is a statistics author and educator, as well as a consultant. He lives in the upstate area of South Carolina in the town of Anderson. He is a professor of statistics, mathematics, psychology, management, and leadership. He has programmed in a variety of languages and scripting languages including R, Visual Basic, JavaScript, C##, PHP, APL, and in a long-ago world, Fortran IV. He writes books and tutorials on statistics, computers, and technology. He has also published many academic papers, and made dozens of presentations and lectures. He has consulted with Compaq Computers, AT&T, Xerox Corporation, the U.S. Navy, and International Paper. He has taught at Keiser University, Argosy University, Capella University, Ashford University, Anderson University (where he was the chair of the behavioral sciences department), Clemson University, Louisiana Tech University, LSU in Shreveport, the University of Tennessee, Cornell University, Rochester Institute of Technology, Rensselaer Polytechnic Institute, and the University of Georgia.
About Apress Media
With more than 1,000 books in print and e-formats, Apress is the authoritative source for IT professionals, software developers, and business leaders all over the world. Apress provides high-quality, no-fluff content that helps serious technology professionals build a comprehensive pathway to career success. Since 2007, Apress has been part of Springer Science+Business Media, one of the world's leading scientific, technical, and medical publishing houses, enabling global distribution of Apress publications. For more information, please visit http://www.apress.com.