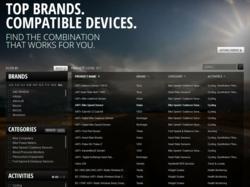 The new ANT+ Product Directory is the Google of health and fitness monitoring devices
Cochrane, Alberta, Canada (PRWEB) November 16, 2012
ANT+, the world-leader in health and fitness monitoring technology, unveils the new ANT+ Product Directory. This expansive database matches fitness devices by activity, sensors, brand name and compatibility. Users can now mix & match innovative products and create the ultimate monitoring system to fit their lifestyle. An essential tool for sports, wellness management and home health monitoring, ANT+ connects users to the most accurate, consistent and detailed health and fitness data available. All ANT+ certified and manufacturer verified products can be found in the ANT+ Product Directory, including devices from top global brands such as adidas, Garmin, Timex, CycleOps and more.
ANT+ Product Directory: http://www.thisisant.com/directory
Which heart rate monitor works with my running watch? Which power meter can I use with my bike computer? These are questions fitness enthusiasts, newbie triathletes and seasoned marathoners are asking every day. Regardless of fitness goals, the new ANT+ Product Directory allows you to create the ultimate monitoring system to fit your needs. You can search by activity, sensor type, brand name and compatibility to generate a list of relevant devices. This allows you to build the best monitoring system for your needs, and knowing that they are part of the certified ANT+ family means they work seamlessly, confidently and accurately, every-time.
"The new ANT+ Product Directory is the Google of health and fitness monitoring devices," says Rod Morris, Vice President of ANT Wireless. "Products such as heart rate monitors, foot pods, GPS watches, weight scales and speed & cadence sensors from the world's most trusted brands all connect and communicate using ANT+ technology. With over 60 million ANT+ devices in use today, the ANT+ Directory provides consumers with an extremely simple way to find the device or combination of devices needed to monitor progress and reach personal goals."
Athletes, fitness enthusiasts and health professionals of all levels can benefit from data monitoring with ANT+. Check out the new ANT+ Product Directory and see which devices will help you meet your health and fitness goals.
To request additional information about ANT+ or any of its partners, please contact PR Representative Brad Hobbs at (305) 374-4404 x 119 or by e-mail at bradhobbs(at)maxborgesagency.com.
About ANT / ANT+ (http://www.thisisant.com):
ANT+ is the technology that lets your wireless monitoring devices talk to each other. Leading brands design ANT+ into top products to ensure that consumers get the data they want, when, and where they want it. And because ANT+ devices are compatible, products can always be upgraded or added to a person's monitoring system.
ANT is a proven protocol and silicon solution for ultra-low power (ULP) practical wireless networking applications. ANT+ facilitates interoperability between ANT+ Alliance member devices and the collection, automatic transfer and tracking of sensor data. Applicable in sport, fitness, wellness management and home health monitoring, ANT+ (built on the base ANT protocol) defines device profiles that specify data formats, channel parameters and network keys. The ANT+ Alliance is an open special interest group of companies who have adopted the ANT+ promise of interoperability. The Alliance ensures standardized communications through optimized brand value and partnerships with other top tier products.
The company behind ANT Wireless is Dynastream Innovations Inc. Dynastream was established in 1998 and became a wholly owned subsidiary of Garmin Ltd. in December 2006. Dynastream is based in Cochrane, Alberta, Canada, and is a world innovator in the research and development of inertial and wireless technology. http://www.dynastream.com
Media Contact:
Brad Hobbs
Account Director
Max Borges Agency
80 SW 8th Street
Suite 1900
Miami, FL 33130
(305) 374-4404 x119
bradhobbs(at)maxborgesagency.com