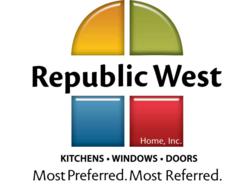 With the cooler temperatures in Phoenix now, customers are now using the rooms that were too hot to use in the summer. Realizing what a waste of energy and space it is to not use these rooms, they're coming to us asking for more energy efficient solutions
Phoenix, AZ (PRWEB) November 19, 2012
Republic West Home is committed to helping homeowners improve the energy efficiency of their homes. In order to lessen the impact of the environment, make living spaces more comfortable and save homeowners money, Republic West Home is now offering triple-pane replacement windows.
"With the cooler temperatures in Phoenix now, customers are now using the rooms that were too hot to use in the summer. Realizing what a waste of energy and space it is to not use these rooms, they're coming to us asking for more energy efficient solutions. They just don't want to spend another summer sweating it out like they did last summer," comments Linda Zimmerman, Vice President of Republic West Home.
Triple-Pane Windows
As the name implies, triple-pane windows, or triple-glazed windows, include three layers of glass. The purpose of the three layers is to better insulate a home by creating additional physical barriers. The middle layer of the triple-pane windows that Republic West Home installs is filled with argon gas which improves the thermal performance of the windows.
An astounding 30%, on average, of heating and cooling a home is lost because doors and windows have air leaks and poor insulation. During the summer, triple-pane insulated windows do exactly what Arizona homeowners need; the three panes keep warm air outside and cool air inside. Republic West Home also offers replacement window options that are designed to protect a home's interior from solar heat and harmful UV rays including bleaching caused by the sun. In the winter, triple-pane windows prevent cold air from entering through leaks and keeps heated air inside.
Benefits of Triple-Pane Windows
Homeowners who invest in energy-efficient windows almost always see an immediate savings on their energy bills. Additionally, Republic West Home's Energy Star certified triple-pane windows offer tax credits, giving homeowners additional financial savings.
To learn more about triple-pane, energy-efficient replacement window options for your home, call Republic West Home today at 480-423-9300.
About Republic West Home:
Republic West Home is a company that stands for quality, honesty, and the best value. Our vision, in an industry often lacking ethics and reliability, is to deliver the best home improvement experience possible - before, during, and after your home remodeling project.
To achieve this, an extensive team of professionals was put in place: employees driven to make the home improvement experience a great one for you, our customers. The formula works and the pleasant experiences we create for our customers have paid off. In an industry where repeat business averages less than 5%, Republic West Home and our 15,000+ clients generate an amazing 50% of our business from previous customers and referrals.
For additional information, please call 480-423-9300 or visit http://www.republicwesthome.com
Media Contact:
Jason W. Jantzen
Phoenix Marketing Associates
http://www.PhoenixMarketingAssociates.com
602-282-0202