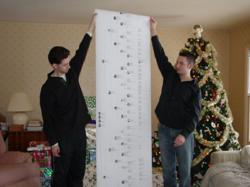 Winfield, IL (PRWEB) November 19, 2012
Ancestry Graphics & Printing has unveiled their holiday plans to allow more genealogists and family historians to see their years of research transformed into a printed family tree chart and to receive a free bonus gift as well. To introduce more families with a genealogy buff in the household to their service, Ancestry Graphics & Printing is selling vouchers this holiday season in increments of $25 to fit any budget.
The vouchers can be used for either family tree chart design or printing services. So whether someone is trying to cover the entire cost of transforming a family genealogist's data into an eye-catching printed chart, or just wants to provide a meaningful contribution to the genealogist in their family, there are different options available. According to Larry Spiegel, owner of Ancestry Printing, printing an average size genealogy chart usually runs around $100 to $150. Prices are dependent upon the physical dimensions of the chart and can be lower or higher. If the genealogist in your family has gathered lots of data, but hasn't already done the design work for the type of chart they'd like to print, Ancestry Graphics & Printing can also provide basic design services for only $45. Spiegel said "these vouchers are ideal for anyone who has already been entering their data into either a genealogy software program, or who is compiling their data using an online service like ancestry.com, but who hasn't yet printed out their research in chart form".
The problem facing an increasing number of the tens of millions of home-grown genealogists who count themselves among the ranks of this country's second most popular hobby is getting their family tree data out of their software programs and onto a large family tree chart in an attractive manner. Ancestry Graphics & Printing says their service will bring cheer to genealogy buffs in search of a solution to this growing problem. "Genealogy software such as Family Tree Maker and online ancestry databases have empowered genealogy buffs to build larger family trees than ever before" said Spiegel. In most instances, these large family trees are well past the point of printing on standard letter-size paper and taping together. To solve this problem, many people will try and enlist the help of a commercial printer who is capable of doing large format printing without a large price tag.
Spiegel said "if your family tree chart measures over about 8 feet wide, you probably won't be able to get it printed at your local printer or self-serve print shop. And, with some applications, the limit may be as small as 4 feet. Printing a wide genealogy chart correctly requires that the genealogy software program be installed on the printer's computer system. Because of growing concerns over third-party software and viruses, it is extremely rare that a commercial printer will run the risk of installing someone else's software on their system for a small one-time job."
Ancestry Graphics & Printing specializes in printing virtually any size family tree directly from all of the most popular genealogy software programs. Using their printing service, Spiegel said "individuals are assured that their genealogy chart will be printed exactly as they were designed. By printing directly from the genealogy data within the software program, individuals eliminate the technical problems and limitations associated with outputting their family tree data to a postscript or PDF file prior to printing."
Customers who purchase pre-paid vouchers for family members up until December 24th will also receive as a free gift the latest 104-page digital edition of the U.S. history timeline which Ancestry Graphics & Printing released earlier this year. This insightful timeline provides genealogists and family historians with a colorful glimpse of what life was like in the past. Covering the years 1910 to 2011, Volume 4 is definitely a nostalgic view of history for readers of all ages. For each of the 102 years included, there are twelve subjects covered including what historical, cultural, financial and military events were occurring; and what inventions, conveniences and advances in communication, medicine and transportation were taking place and shaping people's lives.
Complete information about ordering a voucher is available at http://www.ancestryprinting.com/gift.html.
About Ancestry Graphics & Printing
Ancestry Graphics & Printing has been in business since 2003 providing family tree chart printing services to genealogy customers nationwide and around the world. In addition to family tree printing and their newly released U.S. History Timeline, their site also includes many free downloads of genealogy forms, family tree clip art, and information about headstone rubbing. They can be found at http://www.ancestryprinting.com.
CONTACT INFORMATION
Larry Spiegel
Ancestry Graphics & Printing
630-653-8400
http://www.ancestryprinting.com
###