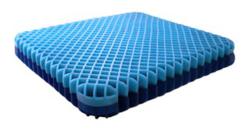 WonderGel cushions have no foam – they are 100% super-strong elastic gel – so there is no need to worry about breakdown.
Alpine, Utah (PRWEB) November 20, 2012
WonderGel, LLC, the exclusive manufacturer and distributor of Column-Buckling Gel auto and chair cushions in the United States, introduced their amazing WonderGel comfort technology in May 2010. Since then, their name and product popularity has spread like wildfire in bringing comfort to the general public. How so?
Traditional cushions made with standard foam or memory foam create "push-back", so that if you need to sit for more than a few minutes, you may experience discomfort. Foam also breaks down over time with moisture and pressure. WonderGel cushions have no foam – they are 100% super-strong elastic gel – so there is no need to worry about breakdown. As opposed to foam cushions, WonderGel's technology does not create the "foam push-back". WonderGel's cushioning surface enables pressure redistribution and equalization through a multi-patented pressure 'threshold' technology comprising hollow columns made from a unique elastic gel.
WonderGel's technology has been proven for years in the medical industry, in advanced wheelchair cushions and critical care mattresses which have been found to prevent or even heal pressure sores. Since 2010, WonderGel has made these amazing cushions available to the public. Growing largely by word of mouth, WonderGel now makes thousands of WonderGel cushions per month and is still growing fast. WonderGel understands the needs of people who are complaining about pain caused by prolonged sitting, and they have launched their USA-made environmentally-friendly cushions at remarkably low pricing. WonderGel offers a line of four gel seat cushions, each with its own features and sizes so everyone can find the seat cushion that works for them. WonderGel's four seat cushions include the Roll n' Go seat cushion, the Original seat cushion, the Extreme seat cushion, and the DoubleGel seat cushion.
All people who are looking for a product that can provide them with ease and comfort while they sit are encouraged to try the products that WonderGel offers and experience the benefits that they can get from using any of these seat cushions.
WonderGel cushions can be found online on many mainstream shopping websites, and also on WonderGel.com. WonderGel cushions can also be found at stores and other resellers across the USA and their cushions can be found in hundreds of truck stops.
For more information about WonderGel and their products, please visit http://wondergel.com/