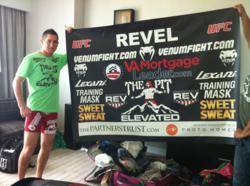 This explosive match-up is said to be one that will go down as one of the more competitive fights...
Montreal, Quebec, Canada (PRWEB) November 18, 2012
Saturday, November 17, 2012 marks the return to the Octagon of the 2nd most popular UFC fighter Georges St-Pierre after recovering for a year from knee injuries and reconstructive surgery. This promises to be an exciting main card, as Georges St-Pierre (the Current Welterweight Champion), more popularly known as GSP, returns to his native Montreal for the UFC 154 at the Bell Center. He will face up against another strong contender, Interim Welterweight Champion Carlos Condit, also known as "The Natural Born Killer."
As St-Pierre prepares for his main event against Condit, the more pressing question would be: Is he still in the shape he was before injuries waylaid him? St. Pierre believes that he is. Both fighters are certainly in top form as far as martial arts expertise goes. Most fight analysts believe though that St. Pierre's wrestling pedigree, karate background and superior athleticism will work for him in this main card match-up. But Carlos Condit is no pushover either, at 6 feet tall and just as hungry as St. Pierre (if not hungrier) for the welterweight title, there is always that opportunity to steal the championship belt. After all, St. Pierre is out to prove that he is still in top fighting form, but Condit is a hungry, young Turk with his sights on becoming a UFC Welterweight Champion.
This explosive match-up is said to be one that will go down as one of the more competitive fights, since both fighters are equally strategic. There is that danger though, that since both are strategic fighters, this most anticipated fight may just turn out to be a waiting game. Set against the backdrop of this potentially explosive match is the Steven Siler – Darren Elkins featherweight fight. Steven Siler, who goes by the nickname "Super" squares off against another featherweight, Darren Elkins, in the UFC 154 in Montreal at the Bell Center.
Darren Elkins is a survivor in the Octagon, coming back strongly after losing his debut in 2010 with a 41-second armbar from Charles Oliveira. But Elkins has only improved after the defeat, practicing submission counters and defense, adding to his jiu-jitsu expertise. A tenacious fighter, he goes on to score 3 straight wins by unanimous decision after his defeat by Oliveira.
Steven Siler, sponsored by Sweet Sweat Thermogenic Workout Enhancer under Sports Research, is equally as explosive in the Octagon. Sweet Sweat has been used by several Canadian MMA fighters and is now available in Canada at selected retailers at http://www.healthstorelocator.com. For Siler, Sweet Sweat helps him cut weight not only to qualify for the weigh-in but also to keep him agile and speedy at a proper weight range. This contributes to his reputation as a well-rounded fighter with lightning-quick reflexes. Reflexes that helped him win 3 straight fights in a row, putting one opponent in a submission guillotine choke, and 2 in submission holds.
This featherweight square-off is evenly matched with two opponents matching up at 3-0. Both fighters will aim to climb the ladder with a 4-0. And the one to do so will go for a victorious finish. This is all the more reason for people to stay glued to their seats on November 17, 2012!