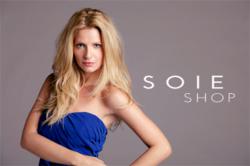 SOIE Shop will supply free product to fashion bloggers and fashion editors so they can see for themselves and share the experience.
Los Angeles, CA (PRWEB) November 18, 2012
The first question that comes to mind is what makes SOIE Shop different from all the online fashion retailers that jostle each other for customers' attention in the internet market. The answer is SOIE Shop doesn't really need to differentiate itself from other online retailers because it knows what its own target market wants. And its fashion wares are sure to attract the kind of woman it has set its sight on.
Which brings us to the next question, what kind of women would wear fashion products from SOIE Shop? They are self-assured enough not to jump on any trendy bandwagon, aware enough to know what looks good on them, and creative enough to appreciate the attention to details and unique embellishments that is inherent in each fashion piece from SOIE Shop.
That said, SOIE Shop's fashion merchandise will also be well-suited to fashion editorials that target the more discriminating woman on a budget. And descriptions of what to expect from SOIE Shop products are proof of this. SOIE Shop invites fashion editors and fashion bloggers to provide honest product reviews. SOIE Shop will supply free product to fashion bloggers and fashion editors so they can see for themselves and share the experience. Please contact http://www.soieshop.com/contact for more details.
Silhouettes are a balance of sophisticated and sexy. In keeping with the wise fashion dictum which states that "true sexiness means keeping a certain mystique alive especially in fashion," styles can be sensuous but not blatantly so. The SOIE Shop woman is one who practices discretion and picks her outfits according to the occasion. This way, she is never ill-dressed, overdressed or even underdressed for any event.
SOIE Shop offers an array of sexy cocktail mini dresses that are subtly figure conscious and perfect for those who want to show off shapely legs but still retain an air of elegance. There are sequined party dresses in stunning combinations of gold and black, and silver and black, that will appeal to the woman who wants to make a youthful yet sophisticated turn.
Embellished collars, de rigueur for fall fashion 2012, make any solid-colored outfit pop with style. One example would be a columnar cocktail mini dress in stark black, bare-shouldered yet sporting an actual collar studded with silver hardware. These unique embellished collars are a way of adding some gleam and impact to an outfit without overdoing it.
Maxi dresses are still on SOIE Shop's fashion line-up but with less of a bohemian vibe. The maxi look a la SOIE assumes a more elegant demeanor with its tube style, bold black and white zigzag print, and the waist accented by a solid-colored sash. The maxi, itself, is loose and breezy and at a proper length so there is less of a chance that the hem will be stepped on in haste. This also means that SOIE Shop spares no expense to keep each piece of fashion comfortable.
Day dresses are also on trend this fall so SOIE Shop has come up with day dresses in striking solid colors for those who want to brighten up the deepening fall light. In fact, royal blue seems to be THE color to be seen in this fall. What SOIE Shop has done for the SOIE lady is offer a high-low day dress in royal blue with a hint of lace near the hem allowing glimpses of shapely calves.
There is MORE in store for every fashionable lady when they drop by SOIE Shop! Fashion treasures are just a click away for the SOIE lady.