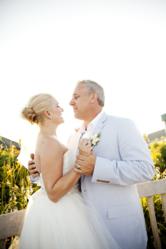 The real question is this: How much does a wedding cost?
Palo Alto, CA (PRWEB) November 21, 2012
BrideBox, a leading wedding album creation service offering a design platform and full range of wedding albums for modern do-it-yourself couples, shares market data and experience on the question of the cost of a wedding and how much do most couples pay for their wedding.
A question we at BrideBox are asked again and again is, "What does an average wedding in the US really cost?" says Bryan Passanisi the online marketing expert at BrideBox. The conventional wisdom out there repeats the same common number of about $27,000 for a wedding, as stated in USA Today. According to Brides Magazine "The average couple has a $26,989 wedding," even though that's down from a peak of $28,082 in pre-recession 2008"; And as stated by CostofWedding.com, "In a recent survey conducted by The Knot, it was revealed that the average wedding is currently about $27,800".
But is this number truly accurate?
We feel that the real question brides are interested in is what is the range that most brides pay for their wedding? Using the term "average" to define this question is grossly misleading.
This number, that what most brides pay for their wedding, is interestingly different.
different form the $27,000 industry concept and is about $17,500 with many local variations, which can severely impact the results
To help navigate through the confusing numbers, BrideBox has compiled a detailed overview of the cost of a wedding
This overview and its surprising findings can save brides time, money and also save them from potential frustrations and disappointments and is available on Bridebox Wedding Albums Blog
About BrideBox
Bride Box is devoted to helping couples design their own wedding albums without sacrificing the top quality materials and photo finishing that mark a professionally produced album. BrideBox combines years of wedding photography expertise and a proprietary process that gives consumers access to products previously only available through photography professionals. The BrideBox line of wedding albums offers unmatched quality, combining the benefits of technology with the skills and individual attention of imaging professionals. BrideBox is a division of DigiLabs, Inc., a privately-held company that creates superior photo products available through professional photographers. Find BrideBox on Facebook at http://www.facebook.com/BrideboxWeddingAlbums or for more information, go to http://www.BrideBox.com.