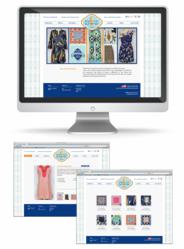 Savannah, Ga. (PRWEB) November 19, 2012
Clark Creative Communications has developed a mixed media campaign as distinctive and remarkable as the boutique clothing line that inspired it. The campaign incorporates a content managed website, a custom illustrated logo, business cards, hang tags for clothing, a blog, and newsletter integration. With each element complementing the other items in the suite, the result is a striking and comprehensive marketing tool for clothing and fashion designer Karen Weaver.
"One Fun Summer reached out to us when it was time to grow and launch the brand professionally," explains Cari Clark Phelps, founder and creative director of Clark Creative Communications. "Before the brand went to market in Atlanta, we were able to develop a robust mixed media campaign for all of this unique label's needs."
Among the innovative features of the Clark Creative design are the logo – featuring a graphic seahorse that serves as an icon that is embroidered onto each clothing product, representing Weaver's distinctive brand. This one-of-a-kind mark can be associated with Weaver's boutique clothes but can also stand on its own in marketing materials. The business cards and tags complete the collection and complement the digital side of the brand's marketing materials as well. Clark Creative-designed work for the clothing line can be seen on Clark Creative's website.These innovations and more bring Clark Creative to the forefront of the modern design landscape, offering comprehensive marketing and design solutions for every business.
ABOUT CLARK CREATIVE:
Clark Creative is an award-winning design and communications firm based in Savannah that works with businesses nationwide to establish their brand identity and position themselves strategically in the marketplace. Ten years of excellence under founder and creative director Cari Clark Phelps has established Clark Creative as one of the top design firms in the Southeast. Clark Creative is located at 517 E. Gordon St. For more information, visit clarkcreativedesign.com or call 912.233.1160.
###