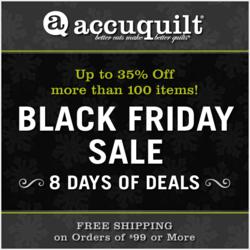 We have so many retailers who are excited to participate in Black Friday AccuQuilt promotions, and our online services are primed and ready for Cyber Monday. –Lynn Gibney
Omaha, NE (PRWEB) November 19, 2012
The Thanksgiving holiday is a sure sign that the shopping season is in full effect, and AccuQuilt is ready to kick it off with a series of sales and promotions that are designed to give quilters and fabric crafters a chance to save big on all their favorite gift and quilting items. In the spirit of the "12 Days of Christmas" AccuQuilt is celebrating "8 Days of Deals!"
Over 100 items go on sale during the biggest shopping days of the year from 11/19 through 11/26. Customers can save up to 35% off select items and get FREE shipping on orders over $99. Exciting price specials will be available through GO! Authorized Retailers as well as online at accuquilt.com. This event will feature discounts on both GO! and Studio fabric cutters, dies and accessories.
"We are really excited to be offering such a wide variety of sales and promotions for our product lines this year," said Lynn Gibney, Director of Marketing for AccuQuilt. "We have so many authorized retailers who are excited to participate in Black Friday AccuQuilt promotions, and our online services are primed and ready for Cyber Monday. It's going to be a great way for quilters to get and give the gifts they love."
The GO! Baby® Fabric Cutter will be offered for $89 (Reg. $139), which is the lowest price it has ever been offered for on accuquilt.com. The GO!® Fabric Cutter will be offered for $279 (Reg. $349 – Save $70). The Studio™ Fabric Cutter will be offered for $395 (Reg. $595 – Save $200).
AccuQuilt will be ringing in Black Friday and Cyber Monday with seven new value bundle sets all discounted only online at accuquilt.com.
The "8 Days of Deals" is only one exciting sales event that AccuQuilt has in the works for the holiday season. AccuQuilt.com will feature a Holiday Gift Guide that will include a range of price levels and give customers everything they need to find the perfect gift for the special quilters on their shopping list.
AccuQuilt GO!® dies, as well as the GO! Baby® Fabric Cutter and GO!® Fabric Cutter, are available at local quilt and fabric retailers. Quilters also can purchase GO! fabric cutters and dies, along with the Studio™ Fabric Cutter, GO! die adapters and hundreds of Studio™ quilting dies, by visiting accuquilt.com or calling 888.258.7913.
About AccuQuilt – Better Cuts Make Better Quilts
Headquartered in Omaha, Neb., AccuQuilt offers quilters, fabric crafters and retailers a premiere line of fabric cutters, dies, quilting patterns and other quilt and fabric cutting solutions that help quilters quickly and accurately cut shapes for quilting and fabric crafts. AccuQuilt also offers quilters a wide variety of rich educational resources to enhance their quilting experiences. Cutting with AccuQuilt cutters is a natural evolution of fabric cutting methods. "First scissors…then rotary…finally…AccuQuilt" for fast, easy, accurate fabric cutting.
# # #