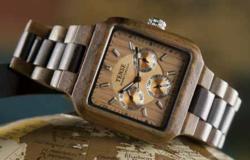 We are excited to help stores from Europe experience similar successes that we have seen with American retailers
(PRWEB) November 20, 2012
Representing Wood, a leading retailer and wholesale representative of Tense Wooden Watches, is now opening Tense Wood Watch resale/retailer accounts in Europe. Retailers may contact Representing Wood to work with an experienced and authorized Tense sales representative who can assist them in putting together orders of the best-selling wood watches and create successful store displays.
Representing Wood has been selling the watch creations of Tense since 2007, and representing Tense wholesale accounts since 2009. Their experience in both the retail and wholesale aspects of the industry has given them unmatched expertise, allowed them to successfully assist stores in growing their Tense sales.
"Tense Wood Watches has had a strong presence in the US market for many years now, and we are thrilled to introduce their product in Europe. Selling internationally comes with unique challenges, and we are excited to help stores from Europe purchase wholesale wooden watches and experience similar successes that we have seen with American retailers," said one owner of Representing Wood. Representing Wood is pleased to assist Tense in growing its business internationally, specifically in countries such as Spain, France, Switzerland, Germany and the United Kingdom.
Tense was established in 1971 in Canada, and has specialized in crafting watches from natural materials. Tense is dedicated to creating the world's most high quality wooden timepieces with cutting-edge Japanese movements. The watch creations of Tense are known for their durability, comfort and feather-light weight. Tense's all wood watches are handcrafted from the unusable excess of veneer suppliers in Indonesia, India and Africa, and they specifically source wood from trees that are sustainably harvested.
Representing Wood and Tense believe that the wood watches will be a hit for Europeans, who have always demanded high quality and fine craftsmanship.
For more information about Representing Wood, or to contact them in regard to their recent announcement, visit their website at http://www.representingwood.com.