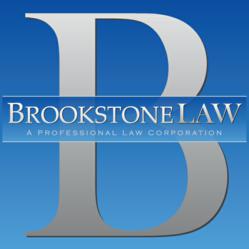 "We will aggressively defend ourselves against any campaigns of false and defamatory negative Internet postings and similar actions." Vito Torchia
(PRWEB) November 17, 2012
A Superior Court Judge has decided in favor of Brookstone Law PC in its lawsuit against Attorney Processing Center (APC), Mr. Gary DiGriolamo, Mr. Chris Yanelli, and nine others that involved an illegal Internet-based information campaign against Brookstone Law PC, according to Vito Torchia, Managing Attorney of Brookstone Law PC.
According to court documents, the decision provides a temporary restraining order, preliminary and permanent injunctions, punitive and compensatory damages and fees against DiGirolamo, APC and its employees. The case is Brookstone Law, PC vs. Attorney Processing Center, Gary L. DiGirolamo et al Case No. 30-201100461745 in Superior Court of the State of California, County of Orange Central Justice Center.
"The campaign against Brookstone Law was designed to harm the public and generate profits resulting from Brookstone Law PC's leadership in the potentially landmark mass-joinder lawsuit against Bank of America," said Torchia. "We will aggressively defend ourselves against any campaigns of false and defamatory negative Internet postings and similar actions."
According to court documents, Brookstone Law PC hired a renowned Forensic Internet Detective to identify IP addresses and sources of false and defamatory postings and connect them to the defendants. Using computer forensic analysis, the nature and extent of the unauthorized activity was determined and then that evidence was attributed to the sources of the defamatory posts.
"This represents Brookstone's determination to protect itself and its name with legal action against those who act to harm the Brookstone brand," said Torchia. "Brookstone stands by its work and encourages consumers with questions to verify Brookstone's standing with the California State Bar by calling the Bar Consumer Hotline at 800-843-9053 or by reaching Brookstone directly at 800-946-8655."
According to public records, in addition to this judgment, Mr. DiGirolamo's criminal history includes being sentenced to five years in prison following a conviction on 27 counts of securities fraud, 8 counts of wire fraud and 14 counts of mail fraud. According to court documents, Mr. DiGirolamo has been running from authorities since 1993 to avoid a judgment against him of more than $1 million as a result of a trial in Ohio that year.
"Our case proved and our investigation revealed, among other acts, that Mr. DiGirolamo held a meeting of all his employees and proposed to pay them and their family members for posting defamatory and false information about Brookstone Law, using their home computers to hide their connection to APC," said Torchia. According to court documents, some of the posts for which the individuals were responsible claimed to be written by current and former employees and current and potential clients of Brookstone Law PC and were submitted to high-traffic websites including the Better Business Bureau.
According to court documents, the complaint alleged that Mr. DiGirolamo, Attorney Processing Center and its employees engaged in unlawful and unfair business practices, intentional interference with contractual relations, negligent interference with contractual relations, intentional interference with prospective economic advantage, negligent interference with prospective economic advantage, false light and libel.
"The posted fabrications were intended to fool homeowners and potential Brookstone clients into signing retainers with firms affiliated with the defendants, when Brookstone has believed those persons, their associates and firms have no qualifications or experience to successfully litigate these major cases against the banks," said Torchia.
According to Torchia, none of the negative posts were from clients of Brookstone Law PC, and multiple positive unsolicited endorsements of Brookstone Law PC by clients can be found on the Brookstone Law PC website at http://www.brookstonelaw.com.
"False accusations and slanders are often published anonymously on the Internet without consequence, but in this case Brookstone Law PC took forceful legal action through forensic detective work and aggressive litigation to protect the public and Brookstone's clients against these individuals and their associates," said Torchia. "We are glad justice has been served in this case as a result of their harmful actions."
ABOUT BROOKSTONE LAW, PC
Based in Newport Beach, with offices in Los Angeles, CA, and Ft. Lauderdale, FL, Brookstone Law, PC, is a law firm comprised of attorneys with experience and success in civil litigation, criminal defense, business, corporate, employment, entertainment & media, art & museum, intellectual property and real estate law. The firm has a network of more than 40 affiliate attorneys nationwide and employs highly trained specialists, paralegals, paraprofessionals and administrative staff dedicated to serving our clients. For information, call (800) 946-8655 or visit http://www.brookstonelaw.com.