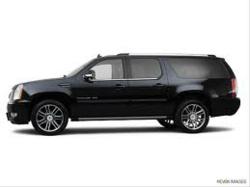 Cadillac has struck the perfect balance with the ESV, one of the most aesthetically refined SUVs on the market.
Calgary, AB (PRWEB) November 19, 2012
For the past several years the Cadillac Escalade ESV has been among the more popular models coming out of the Cadillac brand. This is an iteration of the Escalade that is specifically designed for anyone who needs more passenger and cargo space, but isn't willing to give up on the luxuries of that come with purchasing a Cadillac. It is an extended version of the Escalade that can seat up to eight adult passengers, but its capacious interior still manages to be both elegant and comfortable.
Throughout the years, the Escalade ESV has been upgraded considerably, in accordance with client feedback and also with to align with the vision of the engineers and designers at Cadillac. The upgrades have ranged from the minimal or incidental (increased tech options, such as a Bose sound system, navigation systems, rear-seat entertainment and more), to the major (better safety features, larger engine, upgraded handling and steering technology), but the model has been steadily improving since its inception and the refinements are beginning to yield major dividends in driveability, and overall comfort.
One of the things that draws a lot of people to this vehicle, whether they are already fans of Cadillac or have historically purchased a competitor's luxury vehicles, is the look and the exterior flashiness of the Escalade ESV. For years it has been a challenge for automakers operating in North American markets, where there is a huge demand for SUVs and trucks, to come up with a design for one of these vehicles that is distinct, attractive and flashy without being gaudy or too much. Cadillac has struck the perfect balance with the ESV, one of the most aesthetically refined SUVs on the market.
Edmonton Motors has been one of the largest and most successful Cadillac and Chevrolet dealers in the Edmonton area for many years (it was originally established in 1925). It is a franchised dealership that has received numerous awards and recognitions for outstanding customer service and pricing (including the GM President's Triple Crown Award). The staff at Edmonton Motors are all excited to begin retailing this latest iteration of the ESV, which has only just gone into circulation in Canada.
Although each new item added to this Edmonton dealerships inventory is an occasion, the ESV is especially anticipated by many, and a positive reception is anticipated. The ESV has just recently been added to the available stock at Edmonton Motors, so those interested in test-driving it or getting a closer look at it in the showroom can now do so.