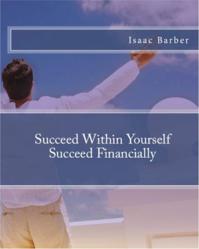 To Succeed In Life, You Must First Succeed Within Yourself!
Steamboat Springs, CO (PRWEB) November 19, 2012
Many people don't understand why they fail to succeed financially and in life. The fact of the matter is, if one doesn't succeed, first, within themselves, they will never succeed financially or in life.
So, how does one succeed within ones self? There are 7 key Principles and/or Traits one must follow and master to succeed within themselves. They are as follows:
1. The Principles Of Auto Suggestion
2. Finding A Definite Aim In Life
3. Following The Golden Rule
4. Developing An Attractive Personality
5. Developing Self-Confidence
6. Developing Self-Control
7. Getting Rid Of Destructive Habits
After one begins to master success within themselves, they can, then, learn how to succeed in their career, job, or in their business.
The paperback book and e-book, "Succeed Within Yourself Succeed Financially," teaches one how to master these 7 Principles &/or Traits. It is available at Amazon.com, or to get access to this amazing paperback book or Kindle e-book just go to http://SucceedWithinSelf.com!