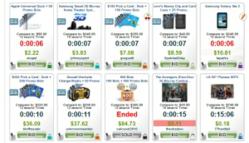 Beezid is one of the coolest auction sites I've ever seen! It's actually pretty exciting to think you could get a big screen TV for only a couple dollars! It's fun!
Los Angeles, CA (PRWEB) November 19, 2012
Sweepstakes Ninja welcomes online auctions penny auction site Beezid.com as a Sweepstakes partner. Beezid.com has been featured on television, and is a leading source for top quality products at up to 99% off the retail price through its penny auctions. Boasting over 50,000 people, Beezid offers a thrilling spin on online shopping to users who enjoy huge savings. Sweepstakes Ninja offers consumers an exciting way to win amazing prizes. Through their sweepstakes draws and sweepstakes partnership with Beezid, consumers may enter on a daily basis to win prizes. Sweepstakes Ninja helps Beezid to grow their brand by through viral sweepstakes marketing campaigns, video marketing, article marketing, word of mouth advertising, social media marketing and more.
Beezid users can get the hottest and most in demand products for very low prices even before they hit stores. In fact, Beezid was one of the first online sites to give consumers the chance to bid on the new iPads a week early before their official release in stores. Beezid regularly features huge discounts on brand name consumer electronics and goods, in a fun and secure online environment.
With Sweepstakes Ninja, contestants have a chance of winning a $100 Best Buy gift card, sponsored by Beezid.com. Additionally, Beezid.com is offering a number of lucky winners to win bidding packages that they can use for bidding online.
The sweepstakes promotion officially runs until December 1st, 2012. It is a daily entry sweepstakes. To increase their chances of winning, the entrant may share sweepstakes links with friends, family, and through social media. This is a win-win situation for both Beezid and the entrant. Entrants increase their chances of winning award winning products, and more people learn about the Beezid auction site. There have already been 10,000+ individuals introduced to the Beezid company through Sweepstakes Ninja.
For more details about this sweepstakes giveaway, or to learn how you may participate in the Sweepstakes Draws and benefit from increased marketing exposure, please contact Johnathan at Sweepstakes Ninja, or visit http://sweepstakesninja.com/sweepstakesdraw/draw/beezid-online-auctions/.