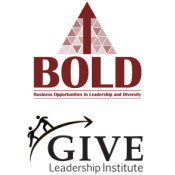 GIVE Leadership Institute helps the BOLD program take the self-awareness and team-building training we offer our students to the next level so they can see practical applications on why those basics of leadership development are necessary.
Ithaca, New York (PRWEB) November 18, 2012
Innovative teaching methods and practical applications offered by GIVE Leadership Institute have helped the BOLD program at Cornell's Charles H. Dyson School of Applied Economics and Management take their self-awareness and team-building training "to the next level" according to BOLD's Deborah J Mann, who directs the leadership portion of the program. GIVE's seminars cover many widespread problems such as lack of employee engagement, sustainable leadership and workplace bullying, but "Leading Sustainable Teams," the seminar being given to BOLD students today, emphasizes leading past the negativity bias and maintaining harmony, establishing trust and managing conflict in teams.
"GIVE provides insights into why understanding and appreciating the diverse talents of colleagues, customers, subordinates, and supervisors can make or break a shared mission, project, or company." Mann explains that it is GIVE's innovative teaching methods, stories and real-life scenarios that allow the students "to become aware and practice the fine art of using self and others understanding/appreciation to work through the tough times, disagreements, and the chaos of constant change."
This focus on conflict management is what distinguishes today's seminar from the two previous lectures given exclusively to students of the Dyson School's BOLD program and the other two sessions that were open to the entire campus. Mann summed up the seminar's value by saying that "life is good when everything is going great, but that's not reality…leaders need to know how to move their constituency through downsizing, obstacles, and crisis."
All business majors at the Dyson School benefit from a business program ranked in the top 10 of the country's undergraduate business programs by U.S. News & World Report and third in the country by BusinessWeek's 2012 "Best Undergraduate Business Schools" rankings. Students participating in BOLD experience, a program that utilizes personal challenges, mentoring, educational/social events, workshops, and community projects, designed to transform participants into ethical leaders who promote an inclusive culture while leading business practices that are economically, socially, and environmentally sustainable.
Mann cites several presentation elements GIVE provides that makes their seminars a good fit with the other challenging material offered to BOLD students. "GIVE helps us take the self-awareness and team-building training we offer our students to the next level so they can see practical applications on why those basics of leadership development are necessary. They also use the assessment tools we offer to create a 'Dashboard' that will gives our students a visual on who else is on the team and what they are good at."
She goes on to stress that these practical applications are enhanced by the presenters' anecdotes and command of the subject matter. "GIVE seminars cover the nuts and bolts of conflict resolution in a way that makes sense to our students. Facilitators are genuine and intersperse the learning with personal stories that allow our students to take an honest look at their own behaviors, so they can understand where they need to improve and have the tools necessary to help them achieve greater success at leading themselves and others."
Today's seminar is being presented by Al Gonzalez, who co-founded GIVE Leadership Institute in 2010. He addresses key obstacles to sustainable teams with tools and techniques that were developed while learning from his own experience while confronting the resistance and realities of the workplace. The model he created for GIVE is a framework of time-tested organizational tools derived from years of experience applying O.D. theory to real-life situations as a leader in organizations such as Motorola, CBS Sports and Cornell University.