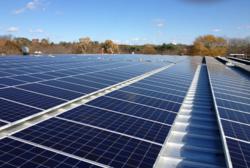 Great businesses are focusing on innovative ways to achieve energy efficiency and cost savings today.

-- Phil Cavallo, president of Beaumont Solar Company
New Bedford, MA (PRWEB) November 19, 2012
Beaumont Solar Company has completed one of the most significant solar projects in the region, installing a 389.40kW solar rooftop on Mass Premier Courts in Foxboro, MA. The project, due to be commissioned this month, is resulting in Net Zero electrical energy consumption for this 73,000 square-foot basketball facility.
"Since we had the luxury of building the largest indoor basketball facility in New England from the ground up," said Gregory Marcotte, developer and CEO of Mass Premier Courts, "we designed our building with the goal to better the gaming experience for both the player and spectator alike. Green initiatives were an integral part of our mission."
According to Beaumont Solar Company CEO Phil Cavallo, Mass Premier is a leader in the New England sports industry with their installation of 1320 solar panels on a metal standing seam roof.
"Great businesses are focusing on innovative ways to achieve energy efficiency and cost savings today," said Cavallo, "and there is no better industry to exemplify this than sporting facilities. With significant rooftop and parking lot area that can be leveraged to generate solar energy, we can help them reduce or eliminate their electric bills entirely."
With a client base that includes 95% kids, Mass Premier Courts wants to take a leadership role in teaching energy responsibility to the next generation and is installing an interactive touch screen monitor in the building lobby to show young people the environmental benefits of the solar rooftop system in real time.
Marcotte has instituted various green initiatives over the past five years, with this solar project being the crowing jewel. Mass Premier Courts utilizes all florescent bulbs on the basketball courts, replaced bathroom paper dispensers with high-efficiency hand dryers, installed internet-controlled thermostats to allow HVAC to be turned off when the building is not in use and launched a single-stream recycling program to allow the facility's large volume of beverage bottles to be recycled.
Beaumont Solar Company has been helping businesses reach their energy efficiency potential in a wide variety of private and public sector industries in New England for the past 7 years. They utilize the power of vertical integration, which is unique in the industry, providing all engineering, design, installation and system maintenance services with 100% in-house staff. For more information, visit beaumontsolarco.com.
About Beaumont Solar Company
Beaumont Solar is one of the emerging leaders in the solar market by providing a streamlined, vertically integrated solution for customers. This philosophy allows Beaumont Solar to be at the highest quality standards and at the lowest price or lowest levelized cost of energy (LCOE). For more information, visit http://www.beaumontsolarco.com.