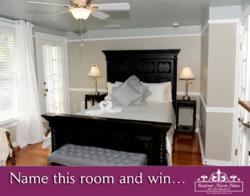 Since the room was completely remodeled, we thought it was a good opportunity to rename it as well.
St. Augustine, FL (PRWEB) November 21, 2012
In September, the Bayfront Marin House asked fans of their facebook page to suggest alternative names for the Princess Margaret room, a private suite located on the inn's second floor. The room was recently renovated after the inn had a fire in June.
"We had a great opportunity to renovate our rooms and truly take them over the top," says Mike Wieber, owner of the bed and breakfast. "Since the room was completely different, we thought it made sense that the name should be different too."
Les Ellerby of the United Kingdom had the staff favorite, the San Marco room. The room's name will be officially changed to Ellerby's entry in the next few months. Amanda Fernald of Pensacola, Florida had the fan favorite room name. Her entry, Sacred Simplicity, received over 1700 votes.
Both winners were awarded $250 gift certificates to the inn.
Information about the Bayfront Marin House
The Bayfront Marin House in Saint Augustine, Florida is a 15-room, luxury bed and breakfast inn. Located on the Matanzas Bay, the bed and breakfast offers stunning views of the water, hot southern breakfasts each day, along with the highest levels of personalized customer service. The lodging has been awarded TripAdvisor's Certificate of Excellence for 2012.