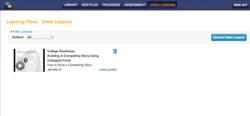 The flipped classroom can address the needs of [struggling] students ... By allowing their teachers to personalize the students' education.
Palo Alto, CA (PRWEB) November 20, 2012
CollegeOnTrack recently extended its education planning platform to allow teachers to use video lessons as part of individual or group Learning Plans. This supports the "flipped classroom" model which is rapidly gaining popularity among K-12 teachers.
CollegeOnTrack developed Learning Plans at the request of high school teachers looking for easier ways to collaboratively develop lessons. Learning Plans support projects lasting from days to years, and allow teachers and counselors to break complex goals into milestones and tasks. Milestone deadlines show on users' calendars, making it easy for students to manage their work.
Teachers using Learning Plans wanted to offer video instruction which wouldn't be blocked by school filters or introduce the distractions found on video sharing sites. Their need was the impetus for Video Lessons.
Teachers and counselors can now record video with computers, smart phones, or cameras, and upload lessons up to 30 minutes long. These become part of their school's Video Lessons library, available to all of their students. Students can watch when it's convenient and repeat videos as needed. If they miss a class, they can see the material without asking teachers to repeat it. If teachers miss a day (and 36% of them missed over 10 days of school in the 2009–10 school year), their students can continue to absorb new material.
When teachers no longer have to give the same lectures over and over, they can spend time with students who are struggling, or work through practical applications of knowledge in class. The result is education that's more productive and uses resources more effectively.
Flip Your Classroom co-author Aaron Sams says: "The flipped classroom can address the needs of [struggling] students ... By allowing their teachers to personalize the students' education."
In a recent survey by the Flipped Learning Network, 88% of teachers using this approach reported improved job satisfaction, and 67% of teachers reported improved student test scores.
The Video Lessons capability is available to CollegeOnTrack schools at no additional charge.
CollegeOnTrack offers webinars on its education planning system. Readers can request information or a presentation at http://sales.collegeontrack.com.
About CollegeOnTrack
CollegeOnTrack was established in 2010 to provide collaborative education planning tools for families, schools, and counseling firms. It offers a combination of rich digital portfolios, student assessment tools, college information, and task management that helps students build a mindset of success and create strong college applications. It's platform is currently in use in schools and counseling organizations across the United States and in China.
For more information about this topic, or to schedule an interview, contact Philip Roybal at (408) 782-4244, or phil(at)collegeontrack(dot)com.