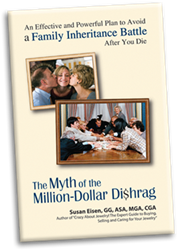 The original will is the document with the most amount of credence. Copies should be avoided at all costs.
El Paso, Texas (PRWEB) November 20, 2012
One of the major problems with most estates is that the parents do not notify their children or their executor about where they have hidden their original will. Although copies are permissible in certain states, many require original wills or the courts have to determine if the copies are admissible as authentic in settling estates.
"In discussing during my inheritance consultations where the original will is hidden, many people do not know" said Ms. Eisen. "It is imperative that the original will be kept in a safe place with notice given to the executor on where it is hidden so there are relatively few problems during probate" she said. Many times there are "with love" lists on which heirs should receive the family jewelry, antiques, and collections, and without the original copies the will can be contested by unsatisfied heirs.
Wills are most often written and kept for many years before they are needed. Ms. Eisen stresses that wills need to be updated at least every three years to determine if the heirs listed are still in good standing and should receive the family heirlooms. Her book deals with constructive ways to divide family heirlooms before the parent's die to avoid family inheritance battles and break up the families after they are gone.
Her book is a compilation of stories about families and their inheritance battles and tips on avoiding them, how to keep organized records of family heirlooms, and what to do about collections of art, jewelry, silver, stamps, and coins when deciding who should inherit them. Accompanying the book is a workbook designed to help families organize their heirloom estate planning and to motivate them to get the job done in a timely matter. Her easy-to-follow method for creating an inventory of possessions through her With Love List and accompanying activities focus on decision making techniques necessary for the inheritance process. The book is available online at http://www.inheritanceexpert.com and http://www.amazon.com and at her location at 5857 North Mesa in El Paso, Texas.
About Susan Eisen
Since launching her art and jewelry gallery and appraisal practice in the early 1980's and sharing her desire for inheritances to become a positive family event, Ms. Eisen has become a sought after advisor for attorneys, CPAs, bankers, estate planners, private collectors and consumers for the valuation and distribution of family heirlooms. She has worked with thousands of clients on their collections of jewelry, gemstones, silver, fine art, coins, and other precious treasures and has helped hundreds of clients avoid having once-loving family relationships turn into fierce family inheritance battles. She is credentialed with many appraisal organizations including the American Society of Appraisers, the International Society of Appraisers, the American Gem Society, the National Association of Jewelry Appraisers, and the Accredited Gemologists Association and is a consultant, speaker, advisor, and expert witness in her industry. She has been interviewed and quoted in over 160 articles in national magazines and is a respected inheritance expert to her clients who live all over the world.