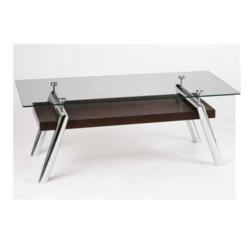 Designer Malmo Glass
Coffee Table
(PRWEB UK) 20 November 2012
A living room without coffee table is incomplete. The joy of sipping a cup of coffee while going through picture album or book placed on the coffee table and the comfort of keeping cup on the table to stretch and relax before taking another sip is refreshing.
To bring this refreshing and comfortable ambiance and feeling in every home, FurnitureInFashion is now offering the latest designer Malmo glass coffee table. This coffee table is a practical and functional piece of furniture with fabulous design. FurnitureInFashion is an online retail store and offers various different kinds of reasonably priced coffee tables. Malmo is a cutting edge design suitable for contemporary and modern homes and can be a used in any room. "Every homeowners desires to have a contemporary and functional coffee table in his or her home as coffee tables definitely add to the elegance and charm of a room.
In order to ensure that people get the best and suitable coffee tables, we as a company work tirelessly to offer a wide selection of coffee tables to choose from. Malmo is one such glass coffee table which has exquisite quality, excellent design and durability. We hope to receive a positive response from our customers with our Malmo glass coffee table launch." the company owner and Managing Director Asad Shamim said.
The magnificent Malmo glass coffee table is the newest addition to the extensive glass coffee tables range at FurnitureInFashion. It is a rectangular table made of tampered glass to provide maximum glass protection from any breakage or scratch. Mr. Asad commented, "We have designed this table by taking into consideration that kids will definitely play around this gorgeous table. So, tampered glass has been used to provide homeowners with peace of mind as their kids run around this coffee table."
Malmo glass coffee table has an under-shelf made of wood. This shelf adds practicality and functionality in this gorgeous table as people can place their favorite book, magazine or daily newspaper on this shelf. The table has been provided with great support by slick chrome finished legs. Mr. Asad said, "The chrome finish of legs with glass top and a wooden under-shelf can add chic and contemporary look in any given living room with any décor."
Malmo glass coffee table can be ideal for a small tea party or a gathering for hi-tea as the table is spacious and strong enough to hold dishes and cutlery. Mr. Asad said, "You can install this table in any room. You can add storage and style to your room as well by placing this table along the empty wall. You can use this table for placing your books, magazine and beautiful ornaments as well. The lustrous glass shine and luxurious wooden under-shelf can add a very rich ambiance in your room."
FurnitureInFashion offers a great range of coffee tables in wood, glass, oak and marble. These tables are available in various shapes including round, oval, rectangular, and square and many more. Most of these coffee tables have storage facility with them. The storage spaces are either at the bottom or at the side and in some cases there are drawers as well. Mr. Asad also commented, "We as a company always try to fulfill and offer whatever may be the requirement of our customers when it comes to coffee tables. By offering reasonable price for a quality product, we have developed goodwill among our customers which motivates us to further enhance our product design and quality."
About FurnitureInFashion
FurnitureInFashion is a UK based online retail business. It supplies furniture items from its German based warehouse and has a showroom in Bolton, UK. The company provides everything from umbrella stand wall art and room dividers to bedroom, bar stools and computer tables. FurnitureInFashion offers excellent free delivery within UK and has a fantastic customer service as well. For further information and details about the sale, visit http://www.furnitureinfashion.net