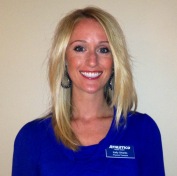 Being a physical therapist, every day and every patient is unique and rewarding in their own way. I love that I can provide individualized care to each patient and exceed their expectations.
Lake Forest, IL (PRWEB) November 20, 2012
As the official Physical Therapy partner of the Chicago Bears, it is fitting that Athletico has opened a new facility in Lake Forest, home of Halas Hall, Football Drive, and the Walter Payton Center. Area residents who have pain from an accident, sports injury or even just everyday activities now have a new resource with the opening of Athletico Physical Therapy at 225 East Deerpath Road.
Athletico Lake Forest offers physical therapy, sports medicine, work rehabilitation, work conditioning, and functional capacity evaluations. The facility has public parking as well as underground parking for ease of patients with injuries. Transportation services are also available for those patients who require transportation assistance.
Kelly Shields, PT, DPT, serves as the facility manager and treating physical therapist for the Lake Forest facility. Shields graduated with a bachelor's degree in kinesiology from the University of Illinois, where she also worked as a certified personal trainer. She went on to attend Rosalind Franklin University where she received her Doctorate of Physical Therapy. Shields began her career at Athletico in 2002.
"The Lake Forest facility is located in downtown Lake Forest within walking distance to all local restaurants and shops. The facility will offer orthopedic physical therapy including sports medicine, work rehabilitation, and functional capacity evaluations. I have a background in treating patients of all ages with a variety of orthopedic and neurological disorders, including pediatrics," says Shields.
Shields' interest in becoming a physical therapist began in high school after following a family friend's suggestion to shadow a local physical therapist. After watching the physical therapist help his patient walk for the first time following knee surgery, she knew this was the career for her – a passion developed that still remains today.
"Being a physical therapist, every day and every patient is unique and rewarding in their own ways. My dedication to individualized care ensures that I am not only meeting but exceeding my patients' expectations. I constantly strive to excel in patient care through personal treatment sessions, physician visits, and most importantly, listening to my patients and their goals."
Athletico Lake Forest provides the community quality care and convenience through the following means:

Patient outcomes reporting using a third-party outcomes system to provide measurable data on a patient's progression that is discussed throughout the course of treatment
Patient satisfaction reporting throughout treatment in order to better understand and respond to patient needs while they are still receiving rehabilitation services, rather than after a patient is discharged
Convenient hours including early mornings, evenings, and Saturdays
Prompt scheduling of each initial evaluation within 24-48 hours of the patient's phone call
Ongoing patient education on diagnosis, treatment plans, and prescribed home-exercise programs
Clear, consistent communication between therapist, physician, and patient regarding progress
To learn more about Athletico Lake Forest or to schedule a complimentary injury screening, call Kelly Shields at 847-482-1433 or email her at kshields(at)athletico(dot)com.
ABOUT ATHLETICO
Athletico Physical Therapy provides orthopedic rehabilitation services to communities and organizations throughout Illinois, Wisconsin, and Indiana. To demonstrate our commitment to both our patients and referring physicians, we measure functional patient outcomes and patient satisfaction with national data comparison using a third-party outcomes system.
Our services include physical and occupational/hand therapy, work rehabilitation, performing arts rehabilitation, women's health therapy, pediatric physical therapy, vestibular rehabilitation, and athletic training. Expanded services include performance enhancement, fitness center memberships, golf fitness, endurance, nutrition, and massage therapy.
Athletico accepts all indemnity, PPO, POS, and WC plans including BC/BS, Humana, Medicare, Aetna (PPO/HMO), PHCS, UHC (PPO.HMO) and many others. As a courtesy to our patients, we verify insurance coverage.
Athletico Toll-Free Injury Hotline 877-ATHLETICO (1-877-284-5384)
http://www.athletico.com