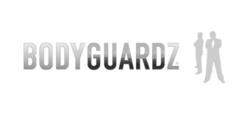 This honor is an affirmation of our newest screen protector's exemplary features, design, use and function compared to others in the marketplace.
-Kirk Feller CEO
New York, New York (PRWEB) November 20, 2012
BodyGuardz, provider of leading gadget protection products and consumer electronics accessories, has secured prestigious recognition by an esteemed panel of consumer electronics experts through its selection as an International CES Innovations 2013 Design and Engineering Awards Honoree. The recognition is for BodyGuardz' ScreenGuardz Pure premium glass screen protector.
Products entered in this prestigious program are judged by a preeminent panel of independent industrial designers, engineers and members of the media to honor outstanding design and engineering in cutting edge consumer electronics products across 29 product categories.
"We're thrilled to be included in this prestigious group of companies and products," said BodyGuardz President and CEO Kirk Feller. "This honor is an affirmation of our newest screen protector's exemplary features, design, use and function compared to others in the marketplace."
When it comes to touch screens and screen protectors, nothing tops the functionality, feel and clarity of glass. Designed for iPhone 4/4S and iPhone 5 user who wants the sleekness of glass combined with outstanding protection, the Pure protector ($39.95) sets a new screen protection standard.
Made from a special chemically-tempered glass, the product has a smudge-resistant coating and high touch sensitivity. It's also incredibly durable, holding up to nails, box cutters, a hammer and more in this YouTube video.
The prestigious Innovations Design and Engineering Awards are sponsored by the Consumer Electronics Association (CEA)®, the producer of the International CES, the world's largest consumer technology tradeshow, and have been recognizing achievements in product design and engineering since 1976.
ScreenGuardz Pure will be displayed in The Venetian at the 2013 International CES, which runs January 8-11, 2013 in Las Vegas, Nevada. Honorees will also be displayed at CES Unveiled: The Official Press Event of the International CES from 4-7 p.m. on Sunday, January 6, in the South Seas Ballroom C at Mandalay Bay.
The Innovations entries are judged based on the following criteria:

Engineering qualities, based on technical specs and materials used
Aesthetic and design qualities, using photos provided
The product's intended use/function and user value
Unique/novel features that consumers would find attractive
How the design and innovation of the product compares to other products in the marketplace
Products chosen as an Innovations honoree reflect innovative design and engineering of the entries. Examples may include the first time various technologies are combined in a single product or dramatic enhancements to previous product designs.
Innovations 2013 Design and Engineering honoree products are featured on http://cesweb.org/Awards/CES-Innovations-Awards.aspx, which lists product categories, as well as each product name, manufacturer information, designer, description, photo and URL.
About BodyGuardz
BodyGuardz, founded in 2002, is committed to offering top-quality products and services at a reasonable price. The company prides itself in providing products, service and delivery that customers notice is a step above the rest. BodyGuardz' offering includes: the UltraTough clear skins full-body films available for hundreds of devices; ScreenGuardz, screen protectors available in multiple film types; armor, which are custom-cut protectors featuring designs for device personalization; iPhone 4/4S fully customizable MyKase; The Garrison for iPad, iPad Mini and Kindle Fire; earjax premium ear buds and more. For more information, visit: bodyguardz.com/company.