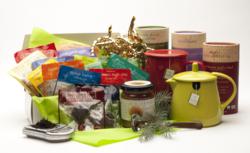 Basalt, Colorado (PRWEB) November 20, 2012
Two leaves tea company™ is excited to welcome the gift-giving season with a new line of gift kits made for tea lovers of all kinds, from experts to novices, health nuts to sweet tooths.
"Tea lovers are easy to shop for, and our new gift sets are pre-packaged sets of tea, accessories and sweeteners that make thoughtful gestures quite simple," says two leaves™ Marketing Coordinator Christy Garfield. "Some of the sets cater to current two leaves™ fans, and others will entice new customers to discover whole leaf tea from two leaves™."
Fall often finds the two leaves™ tea team sipping Organic Mountain High Chai, and so the "Sweet on Chai" gift set includes a box of this spiced black tea, the company's preferred creamy O'hia Lehua Organic Hawaiian honey, and a honey spoon for easy drizzling.
Tea novices will be delighted by the company's new "For the Love of Loose" gift set, introducing them to a variety of loose leaf tea with three cylinders of top-selling loose tea, a carrot-colored 15oz mug, and a tea scale for making the perfect cuppa', every time.
Two leaves team™ members also know plenty of people who try to avoid excess caffeine, and so their new "Keepin' it Mellow: Herbal Tea Sampler" is a sampler which includes two sachets of each of the company's eight delicious herbal teas. There's also a gift set for Anglophiles featuring the company's new line of English style tea named Paisley Tea Co.. "A Proper Cuppa': English Breakfast Set" includes boxes of both Organic English Breakfast and Organic Decaf English Breakfast and a 15oz. turquoise mug — perfect for keeping up the English spirit after the 2012 Summer Olympics in London.
A complete selection of all of the new tea gift sets can be viewed on the company's website, http://www.twoleavestea.com, under the "tea gifts and teaware" heading. All gift sets are ready to ship, coming in a white gift box with bright green tissue paper on the inside, and finished with a red bow.
"Tea is a gift of relaxation and refinement," Garfield says. "It makes a wonderful present for loved ones as well as anyone else who deserves appreciation, like teachers and nannies, or holiday party hostesses."
Two leaves tea company™ will also be taking part in the online world's annual "Cyber Monday" tradition, offering discounts for online holiday shoppers on the Monday after Thanksgiving, Nov. 26. Tea lovers who would like to be alerted to all of two leaves™ sales are encouraged to visit http://www.twoleavestea.com and sign up for "T-Mail" promotions via e-mail.
About two leaves tea company™ …
Two leaves tea company™ is based in Basalt, Colo., and specializes in whole leaf, organic tea packed in compostable, pyramid-shaped tea sachets. The company was recently awarded a first place prize for its Jasmine Petal tea sachet by the North American Tea Championship. Two leaves tea company™ travels to the world's premier tea growing regions to meet farmers and taste tea in its purest, native form. The company's commitment to "go there" allows it to bring the experience of the gardens back to its customers by providing exceptional whole leaf tea from only the best harvests. For more information about the tea company visit http://www.twoleavestea.com.