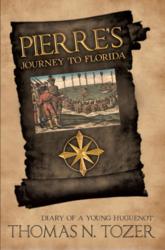 It's a bit of history which most of us are unaware.
SAN FRANCISCO (PRWEB) November 21, 2012
With off-the-grid living becoming more obsolete, it's hard to imagine the excitement, romance and adventure of exploring unknown parts of the world in past times.
In his new historical fiction novel Pierre's Journey to Florida, author Thomas Tozer writes about a young Frenchman who lived among Native Americans in the 16th century, a time of exploring the new world.
"It's a bit of history which most of us are unaware," says Tozer. "But it's when Europeans and Native Americans first came into contact with each other."
In the vein of James Alexander Thom, Tozer conducted extensive research on historical events, figures and periods he writes about in the book, even traveling to the places in Europe and Florida mentioned in the story.
Pierre's Journey to Florida centers on a French Huguenot who lived among the Timucuan Indians of Florida for years after the Spanish massacred his community.
The life adventures of the protagonist are narrated by his great-great-grandnephew in the 17th century based on diaries retained in the family.
For more information, visit http://tozerpierresjourney.com.
Pierre's Journey to Florida
By Thomas Tozer
ISBN: 978-1-4691-9969-6
Softcover retail price: $15.99
Hardcover retail price: $25.99
E-book price: $3.99
About the author
Thomas Tozer became captivated with the early contribution of the French Huguenots in the United States' founding during a visit to St. Augustine, Fla. and his discovery of Huguenot ancestors on his mother's side. He also grew up surrounded by Native American reservations, helping to fuel his interest in Native American cultures. He spent years conducting research for Pierre's Journey to Florida.