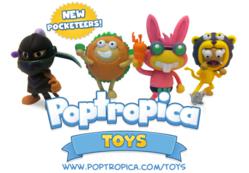 Poptropica has exploded as a global brand that kids see in all types of familiar places, from the App Store to the toy store to the menu at their favorite family restaurant.
BOSTON, Mass. (PRWEB) November 20, 2012
With the kick-off of the holiday shopping season right around the corner, kids can now add four new Poptropica Pocketeer toys from Jazwares, Inc., to their gift list. Available at Toys "R" Us and select independent toy stores, these two-inch collectibles are based on kids' all-time favorite Poptropica characters. They join a growing line of toys based on the popular virtual world for kids, which also includes three-inch playsets, six-inch action figures, and plush toys.
Jumping off the computer screen and into kids' pockets are Astro-Knight, Cowardly Lion, Hamburger and Dr. Hare. Each two-inch figure comes with a code that lets kids unlock an exclusive prize for their Poptropican on Poptropica.com. For example, with the Astro-Knight Pocketeer, kids get a redeemable code for a Mini Astro-Knight Toy, and with the Dr. Hare Pocketeer, they get a redeemable code for a Mini Dr. Hare Toy.
"In just five years, almost 254 million kids have visited Poptropica to play exciting online adventures in a safe, secure environment," said Jess M. Brallier, publisher of Poptropica. "As a result, Poptropica has exploded as a global brand that kids see in all types of familiar places, from the App Store to the toy store to the menu at their favorite family restaurant. Being a part of this evolution has been an exciting journey for all of us."
Launching in 2007 with just one Island, Poptropica today features 31 unique Island quests. The virtual world's brand appears in toys, books, a newly launched game for the Nintendo DS game system and a Poptropica app that allows fans to learn more about the popular virtual world for kids anytime, anywhere on their iOS or Android devices. Plus, everyone's favorite Poptropica characters have been featured twice on the kids' menu at Applebee's restaurants in the United States.
Parents can buy Poptropica Memberships for fans who want perks such as Early Access to new Islands, unlimited Poptropica Store access and exclusive use of the site's Costume Closet. Memberships are available in one-, three- or six-month increments. All Poptropica Islands are free to play, and each represents a unique theme and challenge.
In October 2012, Poptropica's 500 millionth character was created, and more than 60 million friend connections were made around the globe in Poptropica's safe and secure social networking offering, Poptropica Friends. Players come from more than 130 different countries and have their web browsers set to more than 100 different languages, ranging from Spanish and Sanskrit to Vietnamese and Croatian.
Kids can stay up to date on news about upcoming new Islands and other exciting developments in the world of Poptropica on the official blog at http://blog.poptropica.com/.
About Poptropica (http://www.poptropica.com)
Poptropica is a virtual world in which kids explore and play in complete safety. Every month, millions of kids from around the world are entertained and informed by Poptropica's engaging quests, stories and games.
Kids create a "Poptropican" character to travel the many Islands of Poptropica and use gaming literacy to enjoy a narrative that is often rooted in factual history. Problem-solving skills are honed as kids discover and solve mysteries unique to each Island.
There are always new areas to explore in this ever-expanding world where kids can collect objects, read digital books and comics, watch movies and compete in head-to-head competition. Parents can always trust that their children are playing – and learning – in a safe online environment.
Poptropica is published by Family Education Network, a part of Pearson, the education, services and technology company. Pearson's other primary operations include the Financial Times Group and the Penguin Group.