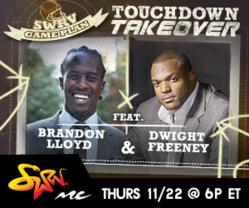 New York, NY (PRWEB) November 21, 2012
This Thanksgiving stick to the SWRV Plan! Catch New England Patriots Wide Receiver Brandon Lloyd and Indianapolis Colts Linebacker Dwight Freeney on special editions of SWRV Takeover. Their "Touchdown Takeover" will feature their very own customized video playlist and will air on Thursday, November 22nd from 6-6:30pm ET.
SWRV TAKEOVER is a 30 minute program that airs weeknights at 6 & 9pm ET where the viewer is in full control. Users become the ultimate video jacker by uploading UGV and creating their own playlist consisting of three videos. As the videos are playing, fans and friends are encouraged to comment on the VJ. Additional artists will be announced throughout the year and will premiere on Wednesday's. To be the featured video jacker any other day of the week, record your own version of SWRV TAKEOVER and upload your video playlist at http://www.swrv.tv/takeover.
Immediately following the show, a special Level 10 Thanksgiving Day Marathon will air from 7-11pm. LEVEL 10 is a show where the music video with the most votes makes it to Level 1 and plays next! As the show progresses and viewers vote via text and online, the rankings will change depending on the number of votes the video receives. The Level 1 video will play next and the Level 10 video will be eliminated.
For more information on SWRV log on to http://www.swrv.tv or to become part of the SWRV community join us on Twitter: @SWRV | Facebook: http://www.facebook.com/swrv.tv
Contact:
Josefa Paganuzzi, Music Choice, jpaganuzzi(at)musicchoice(dot)com
Lindsey Waterhouse, Waterhouse Sports, lindsey(at)waterhousesports(dot)com