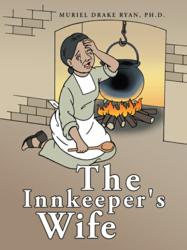 There were more people involved in the Christmas story, so I was inspired to expand the character list.
Terre Haute, Ind. (PRWEB) November 21, 2012
Every year on December 24, children and parents alike gather to celebrate and reenact the beloved story of Jesus' divine birth.
As Muriel Ryan sat in a pew one year, watching dozens of angels and shepherds file clumsily onto the stage, she couldn't help but think there had to be a more relatable way to tell the Christmas story so it would resonate with the everyday person.
From this idea blossomed the new, family-friendly holiday book, The Innkeeper's Wife.
"There were more people involved in the Christmas story, so I was inspired to expand the character list," Ryan says. "In The Innkeeper's Wife, we pick up two perspectives that have been either left out or shorted from the popular version."
Through colorful dialogue, Ryan introduces readers to a Jewish woman who knows the Torah but is not prepared for the Messiah, and presents Joseph as an earthly father chosen by God to experience something unbeknownst to mankind.
Ryan's story is told from the perspective of Hannah, the innkeeper's wife, who is initially reluctant and grouchy at the idea of providing shelter for two humble strangers.
"Slowly, Hannah allows herself to think differently about the circumstance and her attitude," says Ryan. "From that moment on, God changes a hard heart to one of reflection and love."
Ryan says she hopes the messages of faith, love and generosity within The Innkeeper's Wife will live on in the hearts and minds of readers not just during the Christmas season, but all year.
For more information, visit https://www.facebook.com/pages/Muriel-Drake-Ryan-PhD/117825008369076.
The Innkeeper's Wife
By Muriel Drake Ryan
ISBN: 978-1-4497-6244-5
Approx. 36 pages
Paperback 6x9
Retail price: $16.95
Available at Amazon, Barnes & Noble
About the author
Born in Terre Haute, Ind., Muriel Drake Ryan grew up on a small farm with working parents. She attended Indiana State University and graduated from University of Indianapolis, IUPUI, Indiana University and the University of Minnesota with honors. She served in public education as a teacher, principal, and superintendent. After retiring in 1992, Ryan founded Families by Choice with her husband, Bernard Ryan in 2006. Families by Choice provides basic needs to people who are at a distance from their family, either geographically or emotionally. The homeless shelter Ryan and her husband started now has three locations in Indiana and all net proceeds from her books will go to the work and expansion of Families by Choice.