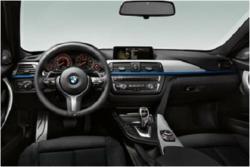 (PRWEB UK) 19 November 2012
Many UK kitchens have had a DAB radio for years but the vast majority of our cars are still waiting for a digital switchover. Now, though, residual values and car spec experts CAP are predicting that business motorists will in future no longer have to endure crackly AM reception of Radio 5 Live or struggle to hear Test Match Special on Radio 4 Long Wave during long days on the road.
That's because the big car manufacturers are finally expected to go for the DAB digital radio standard in a big way next year. The trigger, says CAP, is BMW's decision to equip all of its cars with DAB radios from the beginning of 2013.
A few manufacturers have already been promoting DAB – for example, Vauxhall has generally been making digital radios standard when it introduces new model lines - but according to CAP, as recently as the first quarter of 2010, only 3.8 per cent of new cars registered had DAB as standard equipment. By the third quarter of this year, the figure had risen to 25.5 per cent but even now, almost half of the models sold in the UK don't even offer DAB as an option, including most of the best known business cars.
According to CAP New Vehicle Data expert David Saville: "BMW's announcement this week that DAB would become standard across their entire model range is a real shot in the arm for a less piecemeal approach by the industry to DAB.
"Whether it's in 2015 as originally planned, or later, DAB will be essential rather than a 'nice to have' option. Experience shows us that where the Germans lead in the car market, others follow, and we therefore expect most manufacturers to start making DAB standard across their ranges in the coming year to 18 months."
Business Vans provides a lot of useful information such as business van case studies and business van tax, as well as many company van reviews including Nissan van reviews
For more information, visit Business Vans at http://www.businessvans.co.uk/