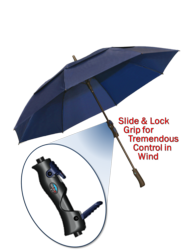 Orlando, FL (PRWEB) November 20, 2012
GRIP2 LLC (website), a privately-owned company that manufactures and sells premium rain umbrellas, announces a 20% off sale on its innovative yet amazingly practical rain umbrellas. This sale will start on Black Friday, and will be in effect on Small Business Saturday, Sunday and Cyber Monday (November 23-26, 2012).
Additionally, all new customers who make a purchase through GRIP2's online store are eligible for the $10 cash referral program. Each referral that leads to a qualified referral purchase by another new customer qualifies for a $10 cash reward. See the GRIP2 website for complete referral program details.
Patented GRIP2 umbrellas add a fundamentally new feature: a slidable grip that can be located and locked anywhere on the shaft. The repositionable ergonomic grip allows the umbrella to be comfortably held higher on the shaft for much greater control in windy conditions – using one hand. Based on scientific principles of grip ergonomics, torque and leverage, the effort needed to maintain control using the GRIP2 feature is up to 70% less than the effort needed when gripping a conventional handle. Put another way, it can take up to 4 times more effort to control a conventional umbrella.
In a recent article, Gizmodo's Andrew Liszewski put it this way: "Who would have thought that with just the simple addition of a second grip an umbrella could become more than just a frustrating mess of metal and nylon during a windy rainstorm? But from the looks of it the sublimely genius Grip2 umbrella could make maelstroms easier to manage."
The root of the age-old umbrella control problem is a handle that is located farthest from the canopy – where wind-generated torque is most severe. For example, in a 20mph wind (a fresh breeze), up to 40lbs of counter force may be needed at the handle to keep the umbrella under control and braced against the wind. This amount of force can be difficult or impossible for many people to apply. Many umbrella users often grab the shaft to maintain control, but the skinny shaft is not an ergonomic grip and fingers can quickly become stressed in gusty conditions(a shaft grip is ~75% weaker than an ergonomic power grip). Often, a user's second hand is not available as a last resort to maintain control at a moment's notice (e.g., using smart phone; carrying items like purse, briefcase, bags, etc.), and the person gets wet and/or the umbrella inverts or gets damaged.
This is a problem that's been waiting for a solution. Said Dan O'Donnell, owner of GRIP2 LLC, "With a GRIP2 umbrella, people are finally able to comfortably and confidently walk in the rain."
ABOUT GRIP2 LLC
GRIP2 LLC was founded in late 2010 to manufacture and sell premium GRIP2 rain umbrellas, featuring the patented repositionable grip, premium materials, high-quality construction, and a limited lifetime warranty. GRIP2 LLC's online retail store was launched in October 2012 to sell the company's initial G2.62VF model. Additional premium umbrella models of varying sizes and styles are in development – all featuring the innovative slidable grip.