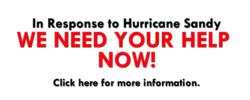 New York, New York (PRWEB) November 27, 2012
For the past 25 years The Thurgood Marshall College Fund has held its Awards Gala in New York City. This year Hurricane Sandy did everything in her power to hinder this, but TMCF was determined to persevere, unfortunately, the 25th Anniversary Awards Gala was cancelled. "We had to keep students, sponsors, and staff around for a few extra days. Unfortunately these are costs we did not expect," explains Anan Johnson, Assistant Marketing Manager for the Thurgood Marshall College Fund.
The Thurgood Marshall Foundation was established in 1987 in cooperation with Miller Brewing Co., Sony Music, the NBA, Reebok and the American Association for State Colleges and Universities. TMCF supports and represents nearly 300,000 students attending its 47 member-schools that include public Historically Black Colleges and Universities (HBCUs), medical schools and law schools. TMCF helps students with a clear intention and the motivation to succeed and acquire a high-quality college education at an affordable cost. TMCF is the only national organization to provide scholarships, programmatic and capacity building support to the 47 public Historically Black Colleges and Universities (HBCUs) and to date has awarded more than $200 million in such assistance to its students and member-schools.
TMCF President and CEO, Johnny Taylor released a memo in regards to the tragedy:
"October 26-30, 2012 we brought 500 of the best and brightest students from around the country to our 12th Annual Leadership Institute & Recruitment Fair for intensive leadership and professional future in a diverse global workforce. With all that being said about our great experience, we also had an unexpected visitor named Sandy come to New York and disrupted our conference, but we didn't allow her to stop our progress. We had to cancel our 25th Anniversary Awards Gala, however we could not disappoint our students and the Leadership Institute pushed through the storm. This unfortunate visitor didn't stop us, however she caused the organization to incur nearly $350,000 in additional food, hotel and travel expenses for the additional days we had to keep the students in New York. Many of our generous sponsors have stepped up to provide additional support, but we still need assistance."
The Thurgood Marshall Foundation is asking people to give to our Relief Fund to assist the organization with absorbing these additional costs. To donate, please click here call Jennifer Wider at 202.507.4855.