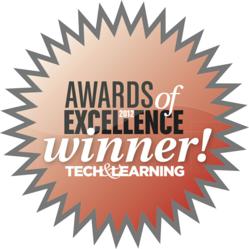 "Califone is privileged to have earned the Best Upgraded Product award from Tech & Learning's prestigious Awards of Excellence program," said Tim Ridgway, vice president of marketing for Califone
San Fernando, Calif. (PRWEB) November 20, 2012
Tech & Learning magazine honored the Titanium™ Series Headset (with Guaranteed for Life Cords) from Califone International, Inc. as a Best Upgraded Product Winner in its 30th Annual Awards of Excellence Program. Tech & Learning recognized that the Titanium Series Headset "have made significant enhancements since the previous version of the same product and evolved with the changing technology to continue to offer the highest quality experience for educators and students."
The Titanium Series Headset is the industry's first washable headset. The headsets can be immersed (after the cord has been detached) in soapy water without worrying about damaging sensitive electronic equipment. Califone upgraded the Titanium Series Headset with its innovative Guaranteed for Life cord to provide schools with a long-lasting, durable option to extend the life of the equipment and maximize their investment.
The Guaranteed for Life cord was developed to withstand extreme wear and tear in educational settings, such as cord biting, swinging or twirling the headset, and being rolled over by a chair. Each cord is fitted with a special woven fabric that protects the interior wiring. A red strand is woven into the fabric to help educators easily identify the Guaranteed for Life cord, which has an industry-first lifetime warranty. If the cord is damaged through normal school or library use, Califone will replace or repair the cord. In a recent survey, more than 68 percent of responding educators reported that they witnessed students chewing on headphone and headset cords as often as several times each day.
Additionally, some Titanium Series Headsets offer an industry-first 85-decibel volume restriction. As a leading manufacturer of audiovisual devices for educational use, Califone has long advocated safe listening practices and raised awareness of the adverse effects high volume levels can have on hearing for children and adolescents. Califone is committed to hearing safety, and is a strong supporter of the American Speech-Language-Hearing Association (ASHA) and its "Listen To Your Buds" campaign.
The Titanium Series Headset supports online and digital learning through its use of USB or To Go plugs to connect with computers or mobile devices. Califone headsets enable students to initiate and fully participate in live online class discussions and virtual learning programs, as well as many other media-rich lessons, supporting learning across the school curriculum and the Common Core State Standards.
Tech & Learning honored 83 education technology products as winners in its 30th annual recognition program. A panel of educators tested and selected the Titanium Series Headset as a winning entry in the Upgraded Product category.
"Califone is privileged to have earned the Best Upgraded Product award from Tech & Learning's prestigious Awards of Excellence program," said Tim Ridgway, vice president of marketing for Califone. "We constantly strive to produce top-of-the-line product offerings for educators and students, and this award acknowledges our ongoing commitment to provide our customers with new and innovative technology."
A detailed description and judges' comments about the Califone Titanium Series Headset will be published in the Tech & Learning's December 2012 Awards Issue.
About Califone
Califone was founded in 1947 and continues to be a leader in the design, development and manufacturing of audiovisual and supplemental curriculum products for use in education, presentation and professional markets. The company offers a complete line of audio solutions, wireless systems and multimedia products for small, medium and large presentation needs. Califone serves millions of educators and students in the PreK through higher education school environments, and has expanded to serve business and industry, houses of worship, parks and recreation, and other presentation markets as well.