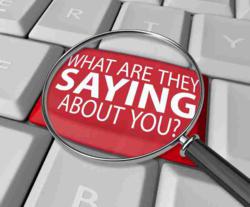 Minneapolis, MN (PRWEB) November 26, 2012
Say what you will about the internet - it has changed all of our lives. Whether young, old or middle aged, technology is changing the way we all get information. Just a couple of decades ago, people looking for a doctor or dentist had to turn to the yellow pages. They may have needed to make several phone calls to find a doctor who would take their insurance. If they were lucky, they might know a current patient and could get some idea of the quality of the doctor; however, without a personal reference, patients had to just go on blind faith.
Now patients can find a doctor, read patient reviews and even schedule appointments online with a few button presses on a keyboard and a click of a mouse (or tap of a finger, if they are using a mobile device). The vast availability of information online is great for patients and practitioners alike, as getting your name out there is easier than ever. Unfortunately, the Internet also allows users to hide behind a wall of anonymity and say things they usually wouldn't out loud, increasing the risk of bad publicity for all businesses.
Get New Patients Inc. has just released their free guide on "How to Protect Your Practice's Online Reputation" to help medical practices navigate the new world of killer patient reviews. Get New Patients is a Minneapolis-based marketing team that specializes in doing exactly what their name says: getting new patients into your office and making them want to come back.
Having a website or a profile on an Internet business directory can increase your exposure and let people share their wonderful feelings about your services. However, there will always be sour grapes out there who are impossible to please and will smear your business. A negative review on a website can hurt more than your feelings - it could hurt your business's profit. While you can always look at a disgruntled patient as a learning experience to improve your service, they may by be driving away new patients by immortalizing their opinions on the web.
People are increasingly relying on online patient reviews to make purchasing decisions, and you need to know what folks are saying about you. Reading Get New Patient's Online Reputation Management Guide can show medical practice owners how to remove negative information of their business from the internet and establish an online reputation that represents their true quality.
About Get New Patients, INC.
At the leadership helm of Get New Patients, INC is CEO and Best Selling Amazon Author, James Dreesen who runs their in-depth education marketing blog which you can follow by liking their Facebook page or following them on Twitter. The company, under the ownership of NorthStar SEO, LLC, and based out of Minneapolis, Minnesota, offers comprehensive Internet marketing campaigns, Search Engine Optimization, and Online Reputation Management for Doctors.
Contact Information:
Get New Patients, INC.
James Dreesen
Tel: (888) 221-0865
info(at)getnewpatientsinc(dot)com