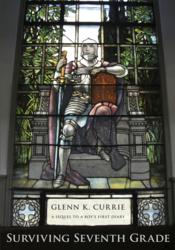 Because of the broad nature of the book's appeal, it makes an ideal gift for children of all ages.
Concord, NH (PRWEB) November 23, 2012
More than 12 million students are either in the seventh grade, or will be entering it in the next two years. And, a new book published this week says that it the boys who are at a disadvantage. Surviving Seventh Grade, by Glenn K. Currie provides a humorous and informative look at this environment from the viewpoint of a thirteen-year-old boy, just in time for the holidays.
Whether it is called junior high or middle school, the world changes as they move from the cloistered classrooms of grade school, to a larger, more complex society, and deal with the hormonal earthquakes of puberty. Surviving Seventh Grade follows Snobby Donna, Billy and Glenn from their adventures in A Boy's First Diary to a whole set of new issues: A trip that takes them from "rulers" of grade school, to a status just below the bottom of a meadow muffin. Because of the broad nature of the book's appeal, it makes an ideal gift for children of all ages.
Currie is a prize-winning poet and humorist who works closely with the Children's Literacy Foundation in a variety of school programs in New Hampshire. He has also been a featured speaker at many events where he mixes humor with an emphasis on the critical importance of ensuring that our children develop good reading and writing skills at an early age.
The book is once again set in the 1950's, which allows readers to focus on life without the complications of smart phones, video games and even computers. As ABFD proved, the kids today are still facing many of the same emotional issues, and relate closely to the humor and struggles of the characters.
Glenn K. Currie's previous young adult book, A Boy's First Diary (2007), looked at life in the fourth and fifth grades, and was met with broad critical acclaim. It was "strongly recommended" by the Midwest Book Review. Writers Digest wrote "I loved this collection". And, among a large number of letters from grade school students, was this thoughtful critique from Jeffrey, age 10, "You are the greatest writer in the world".
Surviving Seventh Grade(978-0-9779675-7-5) is published by Snap Screen Press and is $19.95 for the hardcover edition. It is available at many independent bookstores and also can be ordered at http://www.snapscreenpress.com, or directly from the author at glenn.snapscreen(at)gmail(dot)com. The book is also available in e-book form for $8.95 on Kindle, Nook and at Apple. A copy of the dust jacket is attached